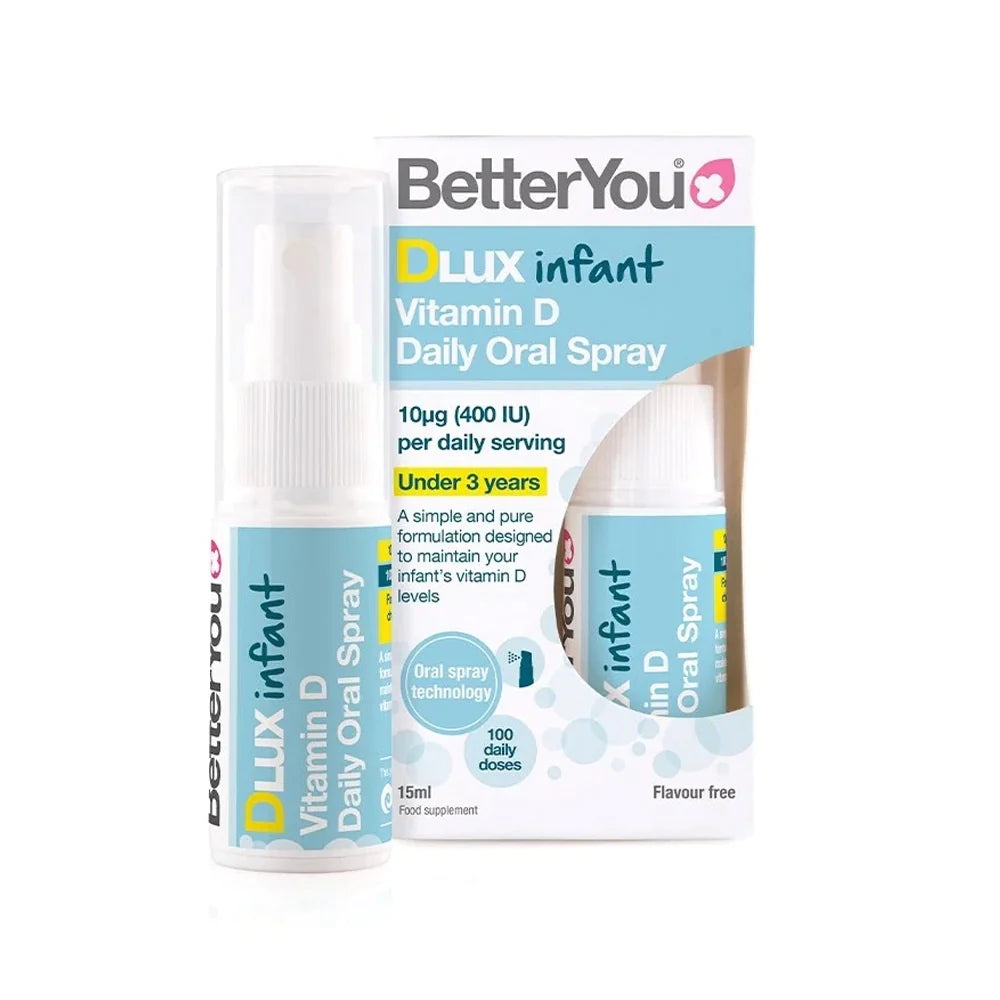 BetterYou Infant Vitamin D (Birth to 3 Years) - 100 doses.
€ 7.95 EUR
Regular price
€ 8.95 EUR
 BetterYou DLux Infant Vitamin D Oral Spray is gentle formulation of coconut oil and vitamin D, specially formulated for children from birth to 3 years.
Each spray delivers 400IU (10μg) of vitamin D3 to support your baby's development
Simple and pure formulation
Contributes to healthy bone and teeth development
Supports a healthy immune system
No artificial colours or flavourings
100 daily doses
Certified vegetarian and palm oil derivative free
Sustainable packaging made from Ocean Waste Plastic
Details
Developed specifically with your little one's in mind, DLux Infant provides the government recommend dose of vitamin D (400iu) in a gentle and pure formulation - Without unnecessary sugars, bulking agents or artificial flavourings.
Formulated to provide optimal nutritional delivery, each spray provides the vitamin D in micro-sized droplets that coat and permeate the soft-tissue of the inner cheek, delivery the essential nutrients into the rich vein system below. This allows the formulation to quickly enter the bloodstream for optimal absorption.
A great-tasting and convenient method of supplementation for infants and young children – No water. no tablets. no fuss.
Importance of vitamin D
An essential vitamin for a child's development, vitamin D aids calcium absorption, supports a healthy bones and teeth, contributes to a healthy immune system and muscle function.
Who needs it
Children under 5 years old are considered an "at risk" group for vitamin D deficiency by the UK Department of Health and should be given a daily supplement throughout the year.  
Ingredients
Coconut oil, cholecalciferol (vitamin D3).
Nutritional Information
Nutritional Information
Each daily dose (1 spray) contains
EC NRV
Vitamin D3
400Iiu / 10μg
200%
*EC Nutrient Reference Value
Free froms
Sugar free
Gluten Free
No artificial colours
No artificial flavours
No additives
No fillers
No GMO
No Alcohol