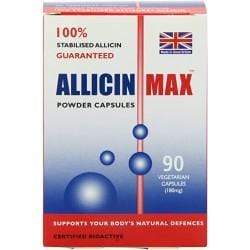 Allicin Max - 90 Veg Caps
€ 29.75 EUR
Regular price
€ 31.95 EUR
ALLICINMAX Large 90 Cap Pack
Allicin is the key ingredient giving garlic its broad-spectrum of anti bacterial activity. It is the major biologically active component of garlic and research has shown that allicin can help with lowering high blood pressure and cholesterol, is an anti- blood coagulator and has strong anti-microbial effects. Allicin powder extract contains a stable amount of bio-available Allicin that is ready to be used by the body.
Product details
ALLICINMAX 90 pack 80grams.
Allicin MAX with provides the body directly with real stabilised allicin. A patented extraction process produces stable allicin and locks all its goodness into convenient, vegetarian capsules designed for rapid absorption into your body.
How to use
Take one capsule daily, or more if needed, with liquid at mealtimes.