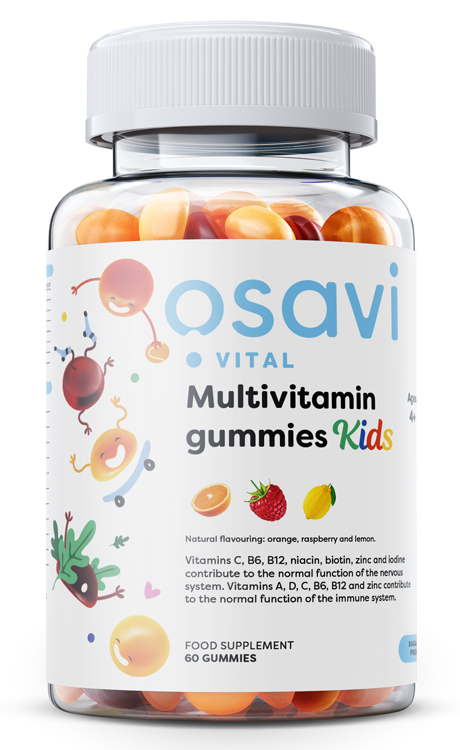 Osavi Multivitamin Gummies Kids (Sugar free) - 60 gummies
€ 13.95 EUR
Regular price
€ 14.95 EUR
Multivitamin Gummies KIDS, sugar free, orange, raspberry, lemon flavour - 60 gummies.
Food supplement in the form of colourful fruity gummies containing vitamins and minerals, with orange, raspberry and lemon flavours. Sugar-free, with sweeteners. 
Vitamin A, D, C, B6, B12 and zinc contribute to the normal function of the immune system.
Vitamin C, B6, B12, niacin, biotin, zinc and iodine contribute to the normal functioning of the nervous system.
Vitamin A, niacin and biotin contribute to the maintenance of normal mucous membranes and normal skin. Iodine and zinc help to maintain normal skin.
Vitamin C, B6, B12 and iodine contribute to normal energy-yielding metabolism.
What is special about
Multivitamin Gummies KIDS? 
Contains a composition of vitamins enriched with minerals - zinc and iodine.
Sugar-free! 
With natural flavours: orange, raspberry, lemon.

For children and adults.

A new form of supplementation.
A comfortable and fun form of supplementation for people who have problems with swallowing capsules or tablets.

Gluten-free, lactose-free, soy-free, GMO-free.

Packaging made of rPET.
We have a way to provide children with essential nutrients. Tasty, colourful and fun. Gummies full of vitamins and minerals that you can give to your child in an enjoyable way.
A healthy diet is the best source of vitamins and minerals for children and adults. The most important way to get sufficient nutrients is to eat a balanced diet to provide all the elements necessary for the proper functioning of the body [1]. However, if the diet is monotonous and based on processed food, the child may refuse to eat many foods of nutritional value, it is worth reaching for a multivitamin that will support optimal health[2,3].
A properly balanced diet is essential for the proper growth and development of the body [4]. The correct way of feeding a child should be based, among others, on: vegetables, fruits, wholegrain products, dairy products, eggs, meat, fish, legumes and essential fatty acids contained in nuts, seeds, olive oil, butter, rapeseed oil or avocado. However, there are some circumstances in which getting the right amount of vitamins and minerals through your diet may be a bit difficult. The use of elimination diets for health reasons, a vegan model of nutrition, food selectivity of a child or food neophobia may be associated with insufficient intake of valuable nutrients [2,3,5]. A food supplement containing appropriate amounts of ingredients necessary for the child's development may prove helpful [6,7]. Vitamins A, D, C, B6, B12 and zinc help in the proper functioning of the immune system, which is important for the development of the child's immunity [8]. Vitamins C, B6, B12, niacin, biotin, zinc and iodine, which affect the proper functioning of the nervous system, allow the child to develop properly, think and be creative [9]. Vitamins A, niacin and biotin help maintain the proper condition of the mucous membranes and skin and support their natural functions. The ingredients in the gummy bears can help maintain the healthy skin of your child, which is an important barrier against harmful external factors [10]. Vitamins C, B6, B12, niacin and iodine contribute to maintaining proper energy metabolism, thanks to which, the child has energy to play, learn and explore the world [11,12].
Our food supplement contains a properly prepared composition of vitamins and minerals adapted to you and your child who is above 4-years-old. This form of gummies is an attractive form of supplementation for every toddler, which allows them to avoid swallowing capsules and tablets, which is problematic for many of us. In the interests of proper eating habits from an early age, we have prepared sugar-free gummies with natural delicious flavours: orange, raspberry and lemon. Bearing in mind the different nutritional needs of children and adults, we have removed the gummies of gluten, lactose, soy and GMOs. The daily dose for a child is 1 jelly, which provides 200 μg (25%) of vitamin A, 5 μg (100%) of vitamin D, 6 mg (50%) of vitamin E, 15 μg (20%) of vitamin K, 30 mg (37 .5%) vitamin C, 8 mg (50%) niacin, 0.7 mg (50%) vitamin B6, 2.5 μg (100%) vitamin B12, 25 μg (50%) biotin, 2.5 mg ( 25%) zinc and 75 μg (50%) iodine. The recommended adult portion is 2 gummies a day. Take care of the proper development, growth, immunity of your child and your own wellbeing with our delicious gummies that promote optimal health.
RECOMMENDED DAILY DOSE
Adults- 2 gummies, children over 4 y. o.- 1 gummy.
METHOD OF USE
We recommend taking your gummies in the morning.
INGREDIENTS
Sweetener: maltitol syrup, porcine gelatin, L-ascorbic acid, acid: citric acid, colouring food fruit and vegetable concentrates (carrot, paprika, apple, black currant), nicotinamide, natural flavourings, DL-alpha-tocopheryl acetate, vegetable oil (coconut, rapeseed), zinc sulphate, pyridoxine hydrochloride, sweetener: sucralose, glazing agents: carnauba wax and beeswax, retinyl palmitate, potassium iodide, D-biotin, phytomenadione, cholecalciferol, cyanocobalamin.
WARNINGS AND STORAGE
Recommended daily dose should not be exceeded. Excessive consumption may produce laxative effects. Food supplements should not be used as a substitute for a balanced diet. A varied diet and a healthy lifestyle should be carried out to help maintain normal health. After the first opening of the bottle, the product should be used within 3 months. Store in a dark and dry place at room temperature, out of the reach of young children.