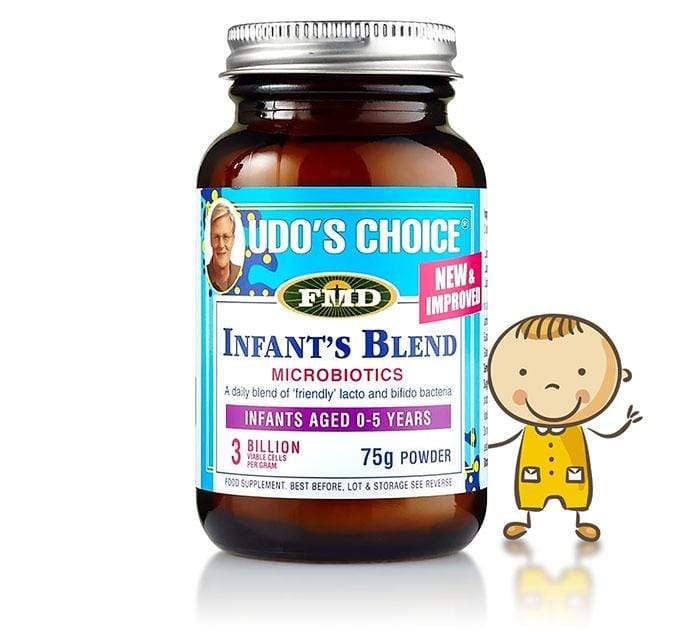 Udos Choice Infants Blend Microbiotic - 75g Powder
€ 25.98 EUR
Regular price
€ 28.00 EUR
With 3 billion 'friendly' bacteria per gram and 6 strains of lacto and bifido bacteria, Udo's Choice Infant's Blend is perfect for your little one. Suitable from birth, simply add to breast milk, formula or other liquid once cooled.
- 3 billion friendly bacteria per gram
- Easy to use powder
- Suitable from birth to five years
Udo's Choice Infant's Blend Microbiotic is specially formulated for little ones. It contains 6 infant and toddler specific bacterial strains including Bifidobacteria infantis, Bifidobacteria bifidum and Bifidobacteria breve. This easy-to-use, tasteless powder can be added to breast milk and formula (once cooled) or applied to the nipple area for those breast-feeding. What's more, Udo's Choice Infant Blend Microbiotic has been trusted by Irish parents for over 20 years making Infant's Blend the perfect choice for your little one.
Recommended Use:
Dissolve 1⁄2 a teaspoon once a day in formula, breast milk or other liquid 1-3 times a day. 
Ingredients
Lactobacillus casei (35%)
Lactobacillus rhamnosus (25%)
Lactobacillus acidophilus (15%)
Bifidobacterium infantis (15%)
Bifidobacterium bifidum (5%)
Bifidobacterium breve (5%)
In a base of maltodextrin (diluent), freeze-dried bacterial cultures, ascorbic acid (antioxidant), silicon dioxide (flow enhancer).
Storage:
Udos Choice® Infant's Blend must be refrigerated to ensure maximum potency & stability and may be frozen.
Please note this product will arrive unrefrigerated. With such a short timescale in transit its quality/strength will not be affected as the product has a long shelf life. Please refrigerate upon receipt and use as recommended. For this reason, we can't accept returns of Udo's Choice® Infant's Blend Microbiotic. May not be suitable for those with an underlying medical condition, please consult your doctor before use. Do not exceed the recommended daily intake. Food supplements should not be used as a substitute for a varied diet. Store out of reach of young children.