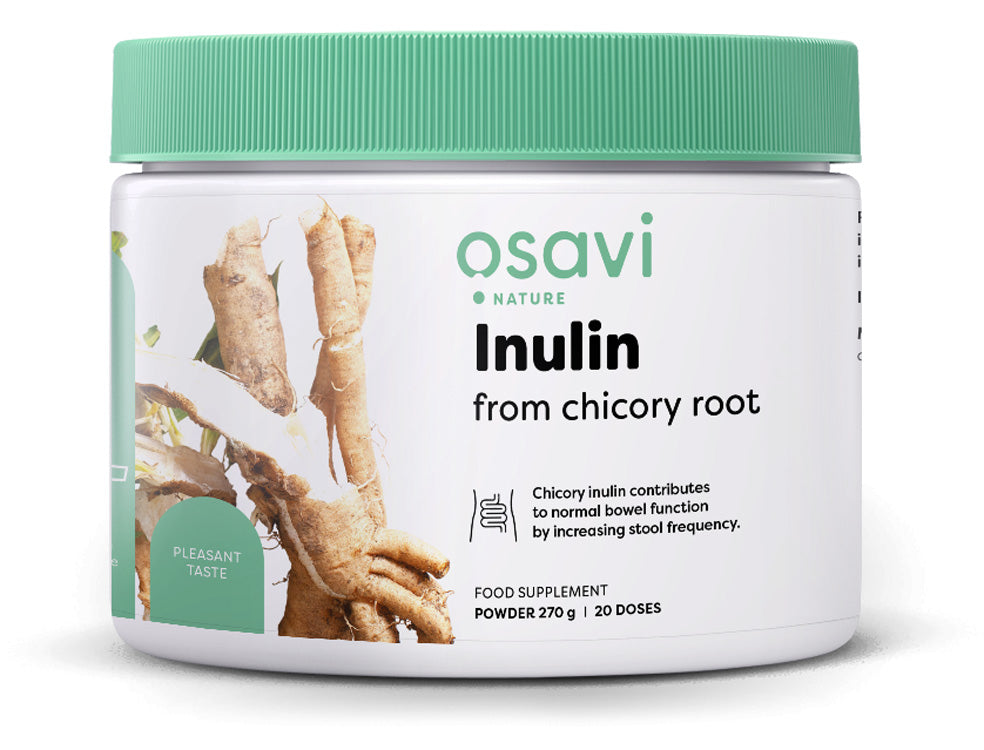 Osavi Inulin - 270g
€ 14.95 EUR
Regular price
€ 16.45 EUR
Food supplement in the form of powder with Fibruline™ highly soluble natural inulin obtained from chicory root. Inulin is a dietary fibre, naturally occurring in many fruits and vegetables which has a positive effect on the digestive system.
Chicory inulin contributes to normal bowel function by increasing stool frequency.
Increases the stimulation of a beneficial intestinal microflora.
Increases the feeling of satiety.

It reduces the contact time of potential carcinogens with the mucosa of the large intestine.

It lowers blood glucose levels.
It lowers the level of total cholesterol and LDL fraction in the blood.
What is special about INULIN?
Contains

Fibruline™

, highly soluble inulin obtained from chicory root

High fibre

Contains measuring scoop inside

Excellently soluble in cold and warm drinks
Excellent for drinks, smoothies or meals
Clean label - product does not contain any additives

Gluten-free, lactose-free, soy-free, GMO-free
If you want to support proper digestion and reduce constipation, reach for inulin, which is a naturally occurring fibre in vegetables and fruits that has a positive effect on the functioning of the digestive tract. Inulin also supports the proper level of glucose and cholesterol in the blood and increases the feeling of fullness, which is helpful during weight loss [1-4].
Inulin is found in some 36,000 species of plants, and chicory roots are its richest source. Inulin is a type of soluble fibre. It belongs to the fructans that have a prebiotic effect by nourishing the good bacteria in our intestines. Gut bacteria use inulin to produce short-chain fatty acids that nourish the cells in the gut and thus have many health benefits for our body. Inulin helps to loosen the stool mass, thanks to which it increases the frequency of bowel movements and regulates the work of the intestines. It reduces the risk of constipation by improving the comfort of digestion. It supports the maintenance of the normal mucosa in the large intestine by shortening the time of exposure to potential carcinogenic substances [5, 6]. The consumption of fibre lowers the level of glucose and also reduces the absorption of cholesterol by lowering the total level and the LDL fraction in the blood. By increasing satiety, inulin helps to better control the appetite and calorie consumption, which facilitates the process of slimming and reducing body fat [1-4]. Inulin supports the optimal intestinal microflora[6,7]. Proper intestinal microflora is essential for the health and function of the digestive tract, the production of vitamins K and B, and proper immunity. Gut health affects well-being and mood.
Our supplement contains Fibruline™, a very soluble inulin obtained from chicory root with a high fibre content. The daily dose contains a total of 13.5 grams of Fibruline™, a fibre from the chicory root (Cichorium intybus) that provides 12 g of inulin. In the package you will find a measuring cup that will help you measure the recommended amount of the product to be consumed three times a day. The product has excellent solubility in both hot and cold drinks, and is also an ideal addition to smoothies and meals. If you want to take care of the health of your intestines and regular defecation - use inulin, which will increase the frequency of bowel movements, support the proper functioning of the digestive tract and help you maintain optimal glucose and cholesterol levels.
RECOMMENDED DAILY DOSE
4 and ½ scoops (13,5 g)
METHOD OF USE
Dissolve 1 and ½ scoops (4,5 g) of powder in 200 ml of warm or cold water, drink or add directly to food. Take three times a day.
INGREDIENTS 
Fibre from chicory (Cichorium intybus) root
Advisory Information:
To ensure a healthy lifestyle, it is essential to maintain a varied and balanced diet. Food supplements should not be relied upon as a substitute for this. If you are pregnant, breastfeeding, taking any medications, or under medical supervision, it is advised to consult with a doctor or healthcare professional before using any supplements. If you experience any adverse reactions, discontinue use and seek medical advice. Please keep these products out of the reach of children and refrain from using them if the seal under the cap is broken or missing. Additionally, it is important to note that this product is intended for use by individuals who are 18 years of age or older. Warning: Please do not exceed the stated recommended daily dose.