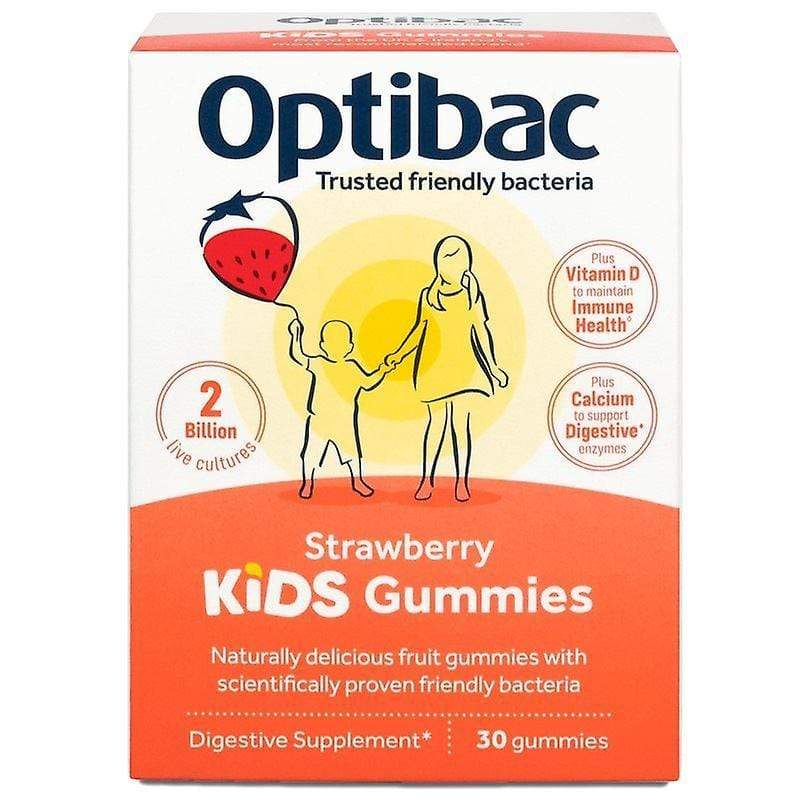 Optibac Kids Gummies - 30 Gummies
€ 15.45 EUR
Regular price
€ 15.95 EUR
Optibac Kids Gummies - 30 Gummies - Strawberry
Optibac Kids Gummies is a naturally delicious, vegan friendly bacteria gummy supplement. Developed for children from 3 years onwards, each gummy contains 2 billion live cultures of Bacillus coagulans Unique IS-2, which has been scientifically researched in children, as well as calcium and vitamin D3.
Who is Optibac Kids Gummies for​?
For children aged 3 years+ these soft-bite fruit gummies provide high quality friendly bacteria in a delicious format. 
Containing the scientifically researched strain Bacillus coagulans Unique IS-2, Fructooligosaccharide fibres (FOS), Vitamin D3 and calcium, these gummies are an easy way for children to take their daily supplement for digestive and immune support.
Suitable for children on vegetarian, vegan, gluten-free or dairy-free diets.
This product will be launching in our brand-new look! Our new eco-friendly packaging and refreshed designs will be rolling out over the coming months, so keep your eyes peeled for updates.
Key benefits
Easy to take any time of day, with or without food.
Each strawberry flavour gummy contains 2 billion live cultures + 0.55g FOS.
Contains Vitamin D to maintain immune health.
Contains Calcium to support digestive enzymes.
Calcium and vitamin D are needed for normal growth and development of bone in children.
Made with real fruit concentrates for a more natural option.
With no artificial sweeteners, colours or flavours.
No added sugars
Vegan, gluten free and no dairy.
Extensively taste-tested by children, for children.
100% Plastic Free packaging – with a home compostable inner pouch and an FSC approved recyclable box.
From the UK's most trusted & recommended brand of friendly bacteria supplements. As determined in an independent survey of 1000 British parents+.
Available in a pack of 30 gummies – serving size 1 gummy per day.
Live Bacteria Strains
Bacillus coagulans Unique IS-2
Vitamin D3 (vegan)
Calcium
FOS fibres
Recommended use
1 gummy a day, with or without food.
One gummy contains 2 billion Bacillus coagulans Unique IS-2, FOS fibres (0.55g), Vitamin D3 (5µg) and Calcium (120mg).
Anyone consuming this product must be able to chew solid food.
Do not exceed daily recommended dosage.
Can be used on an ongoing basis.
Storage instructions
Kids Gummies does not require refrigeration. Store in a cool, dry place below 25°C and out of direct sunlight.
Ingredients per gummy

Fruit juice/puree concentrates (apple juice, apple puree, strawberry puree)
Fructooligosaccharide fibres (FOS 0.55g)
Tricalcium phosphate (calcium 120mg: 15% NRV)
Lemon juice concentrate
Gelling agent: Pectin
Black carrot juice concentrate
Natural flavour
Citrus fibre
Live cultures: Bacillus coagulans Unique IS-2
Vitamin D3 (5µg: 100% NRV)

Each gummy contains 2 billion of good bacteria. Guaranteed until the date of expiry.

Suitability

Vegan
Vegetarian
No dairy
Gluten free
Yeast free
GMO free
Free from artificial flavourings, colourings and preservatives
No chemicals or parabens

Due to the natural ingredients, there may be some colour variation over time. This does not affect the quality of the product.

This product should not be used as a substitute for a healthy lifestyle and varied diet.