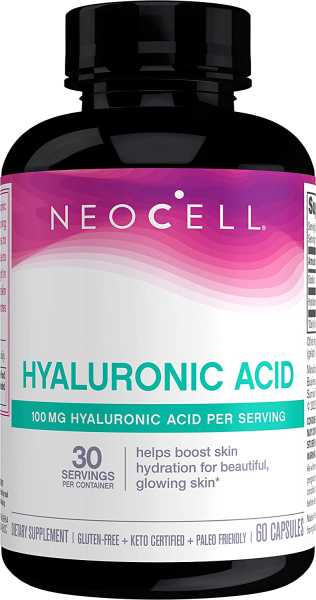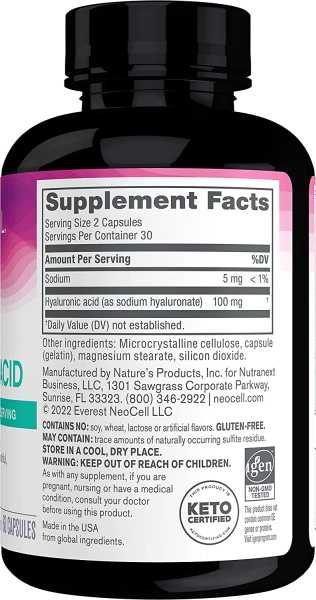 Neocell Hyaluronic Acid - 60 Capsules
€ 46.95 EUR
Regular price
€ 49.95 EUR
Quench your skin from the inside-out with hyaluronic acid—nature's great moisturiser! This nutrient has astonishing water absorbing capacity, allowing it to lock moisture into skin cells for a hydrated, supple complexion.
Skin hydration
Promotes beautiful, supple skin
Hydration is important for a body, and your skin craves Hyaluronic Acid, nature's moisturiser. NeoCell Hyaluronic Acid helps contributes to tissue hydration at the cellular level, activating your natural, radiant glow from the inside out. We'll drink to that. So will your skin. 
Soak Your Skin with Nature's Great Moisturizer
Hyaluronic acid (HA) is an important polysaccharide found throughout the body, but concentrated mostly in your skin. It is able to hold 1,000 times its weight in water, allowing it to provide tissue hydration. That means HA can lock moisture into your skin cells, keeping them hydrated, revealing supple skin.
NeoCell® Hyaluronic Acid gives you 100 mg daily dose of nature's hero hydrator. It activates your natural beauty from the inside out. We'll drink to that...and so will your skin!
Non-GMO | Gluten-Free | No Soy, Wheat or Lactose | No Artificial Flavors | No Added Sugars
Hydrating Hyaluronic Acid
Hydrated, Supple Skin
Inner Beauty, Outer Radiance
INGREDIENTS
Dosage: 2 capsules
Ingredients per serving:
Hyaluronic Acid (as Sodium Hyaluronate) 100 mg**
Ingredients: Microcrystalline Cellulose, Vegetable Magnesium Stearate, Silicon Dioxide, Gelatin Capsule.
Free from soy, wheat, lactose or artificial flavors. May contain: traces of naturally occurring sulfite residues.
This product does not contain any common GE genes or proteins.
** = Daily requirement not determined
APPLICATION
Take two (2) capsules daily or as directed by your healthcare practitioner.
Advisory Information:
To ensure a healthy lifestyle, it is essential to maintain a varied and balanced diet. Food supplements should not be relied upon as a substitute for this. If you are pregnant, breastfeeding, taking any medications, or under medical supervision, it is advised to consult with a doctor or healthcare professional before using any supplements. If you experience any adverse reactions, discontinue use and seek medical advice. Please keep these products out of the reach of children and refrain from using them if the seal under the cap is broken or missing. Additionally, it is important to note that this product is intended for use by individuals who are 18 years of age or older. Warning: Please do not exceed the stated recommended daily dose.