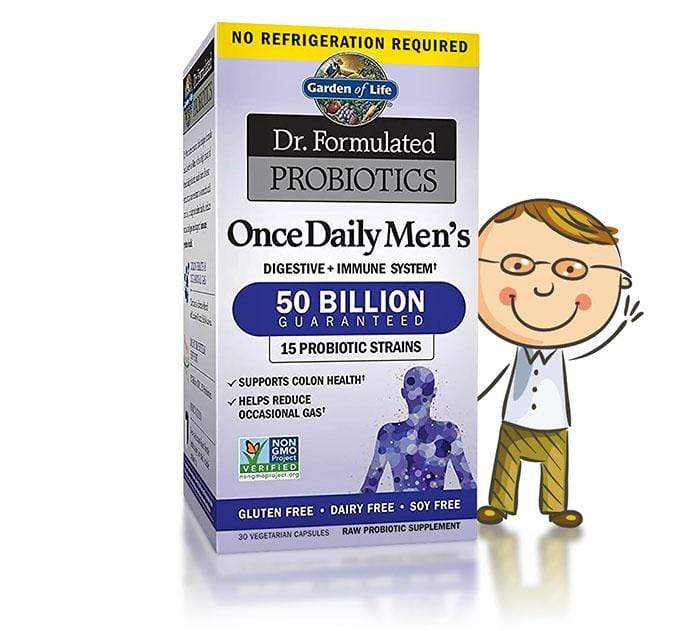 Garden Of Life Microbiome Probiotic Formula Once Daily Mens's 30 caps
€ 39.95 EUR
Regular price
€ 44.95 EUR
Dr. Formulated Probiotics - 50 Billion - Once Daily Men's Formula
The Microbiome Formula, Once Daily Men's, is a unique "just one capsule a day" shelf-stable, specifically designed to support a healthy microbiome and men's specific health needs.

Supports digestive and immune system health
50 billion CFU per capsule; 15 strains of live bacteria 
Has a diverse probiotic blend of Lactobacilli and Bifidobacteria strains
Non-GMO Project Verified, NSF Certified Gluten Free, Certified Vegan
Gluten free, dairy free, soy free, vegetarian
Contains no carriers, fillers, artificial colours or flavours
Requires no refrigeration
Has Shelf-stable Potency Promise—50 billion live probiotic cultures, shipped in a desiccant-lined bottle to ensure your probiotics Arrive Alive and Stay Alive
The unique formula has been created exclusively for men. With a high count of beneficial and diverse bacteria strains, including Lactobacilli and Bifidobacteria, that are resistant to stomach acid and bile, it has been designed to support colon health, reduce occasional gas and support immune system health.
*Please note, packaging may vary
Contains no carriers, fillers, artificial colours, flavours, sweeteners or preservatives.