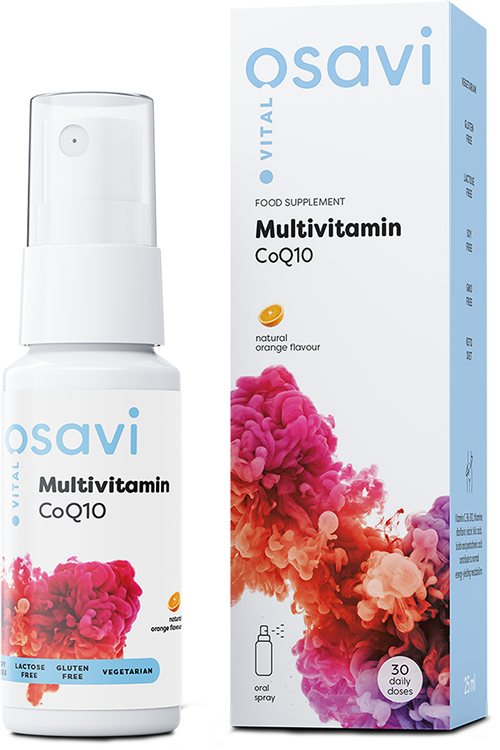 Osavi - Multivitamin CoQ10 Oral Spray Orange - 25 ml.
€ 12.95 EUR
Regular price
€ 14.95 EUR
Multivitamin CoQ10 - 25 ml oral spray, orange flavour
Food supplement with vitamins and Q10Vital® - a highly bioavailable coenzyme Q10. Oral spray with xylitol (with sweeteners) and natural orange flavour.
Vitamins C, B6, B12, thiamin, riboflavin, niacin, folic acid, biotin and pantothenic acid support proper energy metabolism. 
Vitamin A, D, C, B6, B12 and folic acid support the work of the immune system.
Vitamin E and riboflavin protect cells from oxidative stress.
What is special about
spray Multivitamin with CoQ10?
A new form of supplementation.
1 month' supply in one small, convenient bottle.

Contains eight B vitamins, vitamin A, D3, E, C and water-soluble coenzyme Q10Vital®.

With xylitol and natural orange flavour.

Easy to use: you do not need to take it with a glass of water or dissolve it, this makes it easy for people who have problems with swallowing - no more capsules or tablets!
Multivitamin CoQ10 was created to help supplement a healthy diet and support your lifestyle. The oral spray is enriched with a natural orange flavouring ensuring a pleasant taste. Each portion of delicious orange spray contains coenzyme Q10, vitamin A, D3, E, C and eight vitamin B. Coenzyme Q10, also called "fountain of youth", participates in the process of energy production in cells.
RECOMMENDED DAILY DOSE
4 sprays (0.8 ml).
METHOD OF USE
Spray directly into the mouth, under tongue. We recommend taking in the morning. Shake well before every use. On first application you need to press 3-4 times to activate the pump.
INGREDIENTS 
Water, thickeners: xylitol (30%) and xanthan gum, concentrated orange juice (8%), Q10Vital® (water, modified starch, coenzyme Q10), sodium L-ascorbate, cholecalciferol, calcium D-pantothenate, D-alpha-tocopheryl acetate, nicotinamide, pyridoxine hydrochloride, retinyl acetate, thiamine mononitrate, natural orange flavouring, preservative: potassium sorbate, pteroylmonoglutamic acid, riboflavin 5'-phosphate sodium, D-biotin, cyanocobalamin.
WARNINGS AND STORAGE
Product can be used by children from 3 years of age. Recommended daily dose should not be exceeded. Excessive consumption may produce laxative effects. Food supplements should not be used as a substitute for a balanced diet. A varied diet and a healthy lifestyle should be carried out to help maintain normal health. Use within 3 months from first use. Store in a dark and dry place at room temperature, out of the reach of young children.