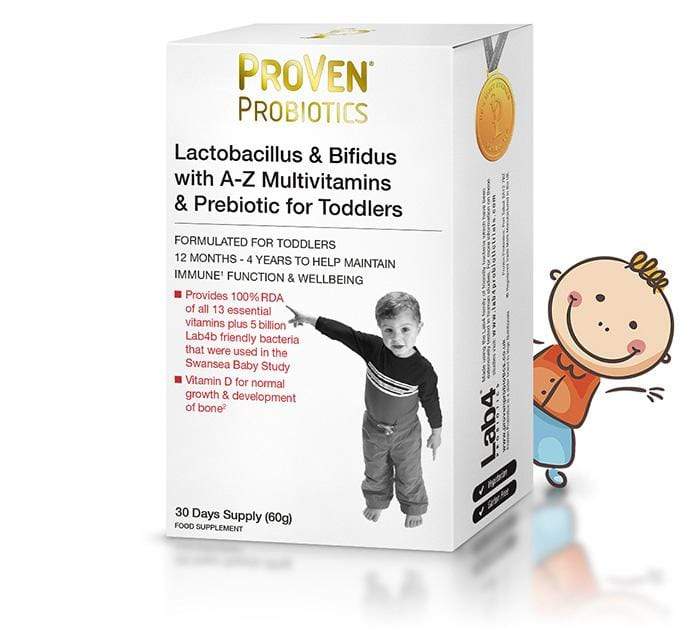 ProVen Probiotics For Toddlers - Powder with multivitamins & prebiotic
For Toddlers (from 12 months to 4 years) - Powder with multivitamins & prebiotic
30 servings • 2 heaped scoops per day
Berry flavoured powder
Scoop included
5 billion Lab4 friendly bacteria per two scoops
Also contains multivitamins and prebiotic fibre
The only friendly bacteria with 100% NRV of all 13 essential vitamins specifically developed for toddlers
Supporting your toddler's immune system
It is now recognised that a healthy gut bacteria is established in the first few years of life and that the establishment of a robust microbiota during the early years of life is critical in driving the development of healthy immune and intestinal function.This microbiota is influenced during pregnancy, childbirth and breast-feeding, but modern living conditions, which are more sterile and bacteria free, may inhibit or slow down the natural development of the normal flora (gut bacteria), particularly for young children.
ProVen Probiotics Lactobacillus & Bifidus with A-Z Multivitamins & Prebiotic for Toddlers is the only friendly bacteria product developed specifically for infants and toddlers from 12 months to 4 years of age to help maintain immune and intestinal function and general wellbeing.
It contains the Lab4b group of four types of friendly bacteria, which naturally form part of the developing population of gut bacteria in infants and young children. It also contains two types of prebiotic called GOS, which is found in high concentrations in breast milk, and FOS, which is found in fruits and vegetables. These prebiotics provide food for the Lab4 friendly bacteria and can help then to grow and become established in the intestines. ProVen Probiotics for Toddlers has a mild berry flavour and colour to appeal to young children.
The Lab4b friendly bacteria were used in the Swansea Baby Study of over 450 babies carried out over five years.
Key features
Provides 100% NRV of all 13 essential vitamins
Each serving contains 5 billion Lab4b friendly bacteria as used in the Swansea Baby Study
Contains vitamin D for normal growth and development of bone
Contains prebiotic fibre (GOS and FOS) to help the friendly bacteria to become established in the intestines
Mixed berry flavour
Good To Know:
Powder

1-4 years

Suitable for Vegetarians

Not suitable for Vegans

Gluten Free

GMO Free