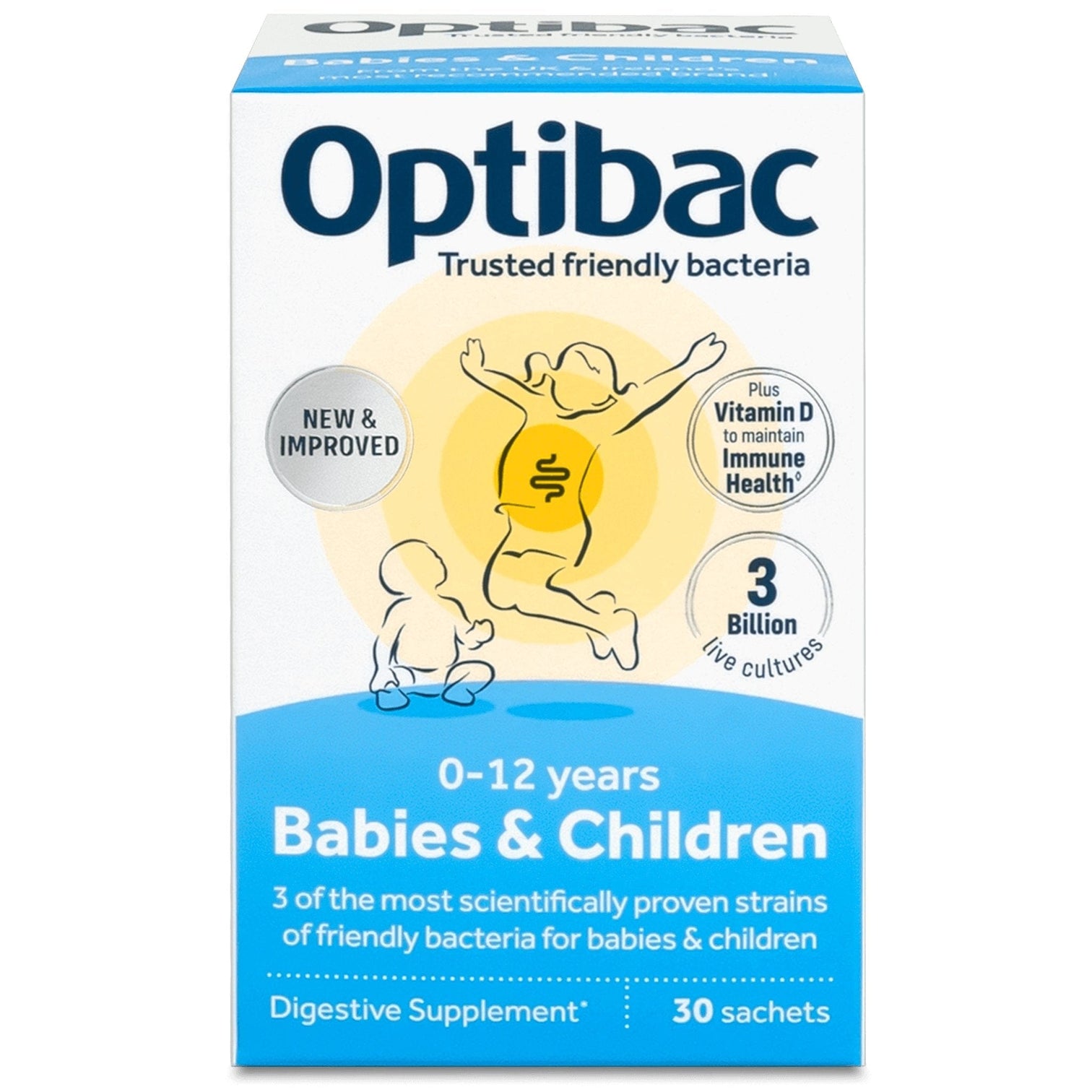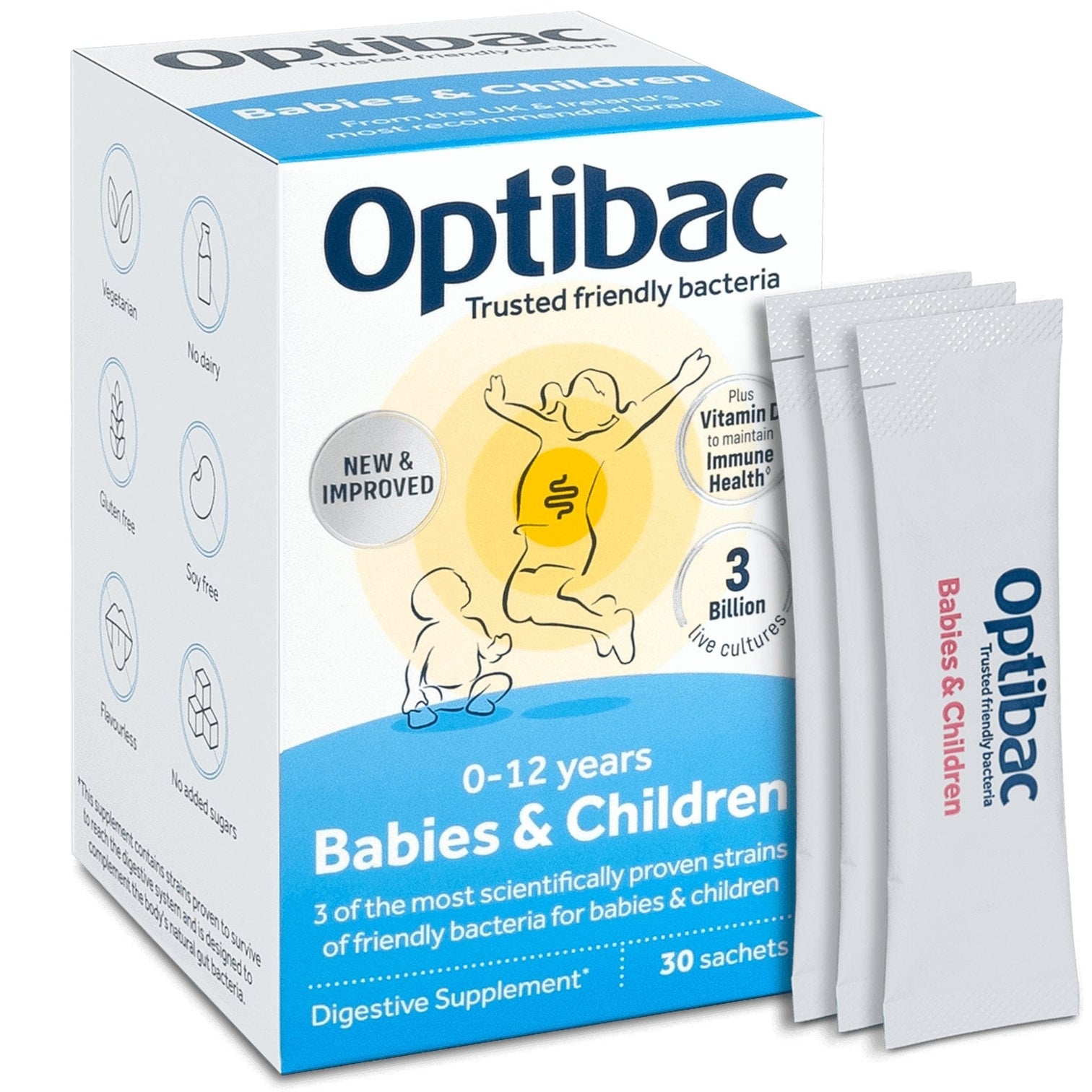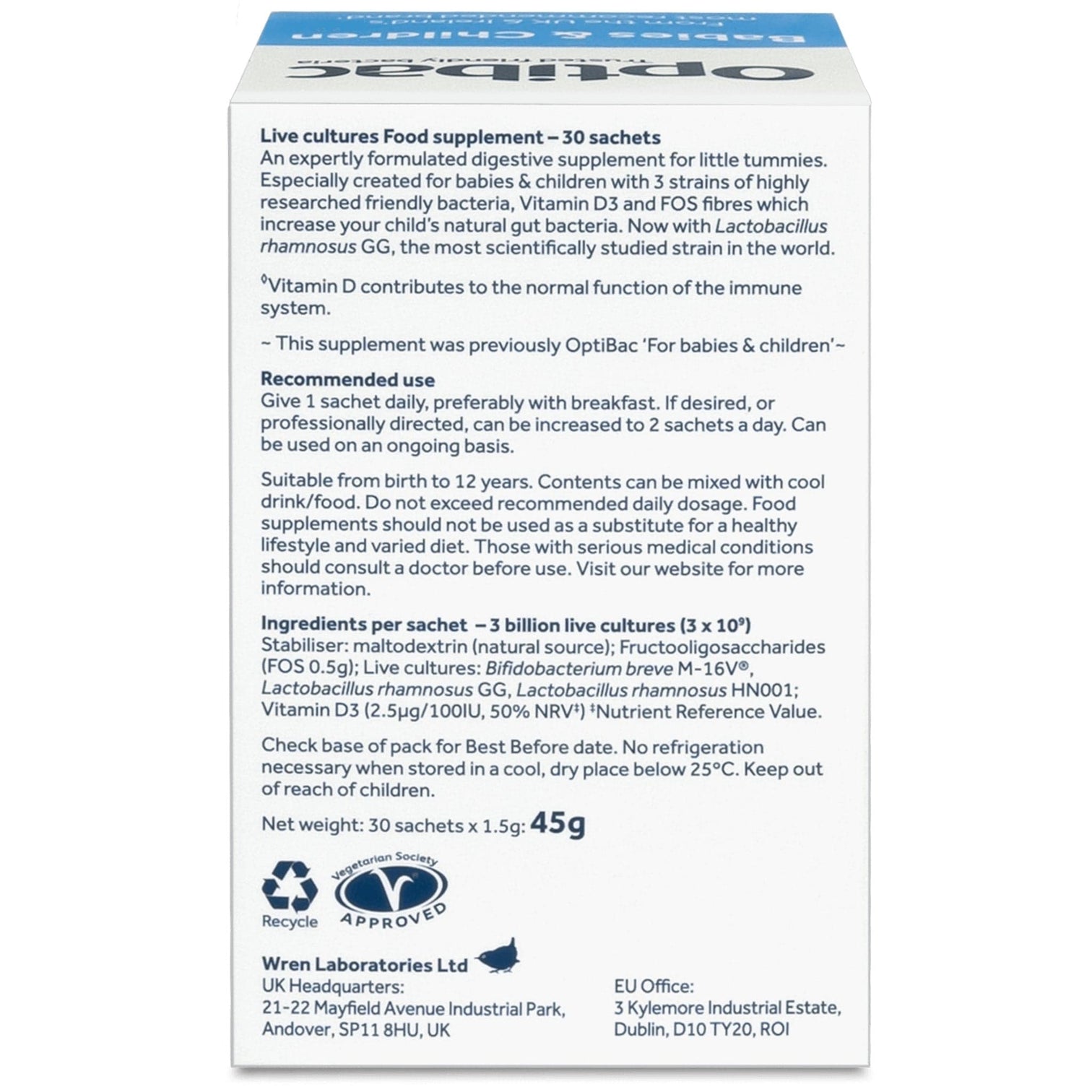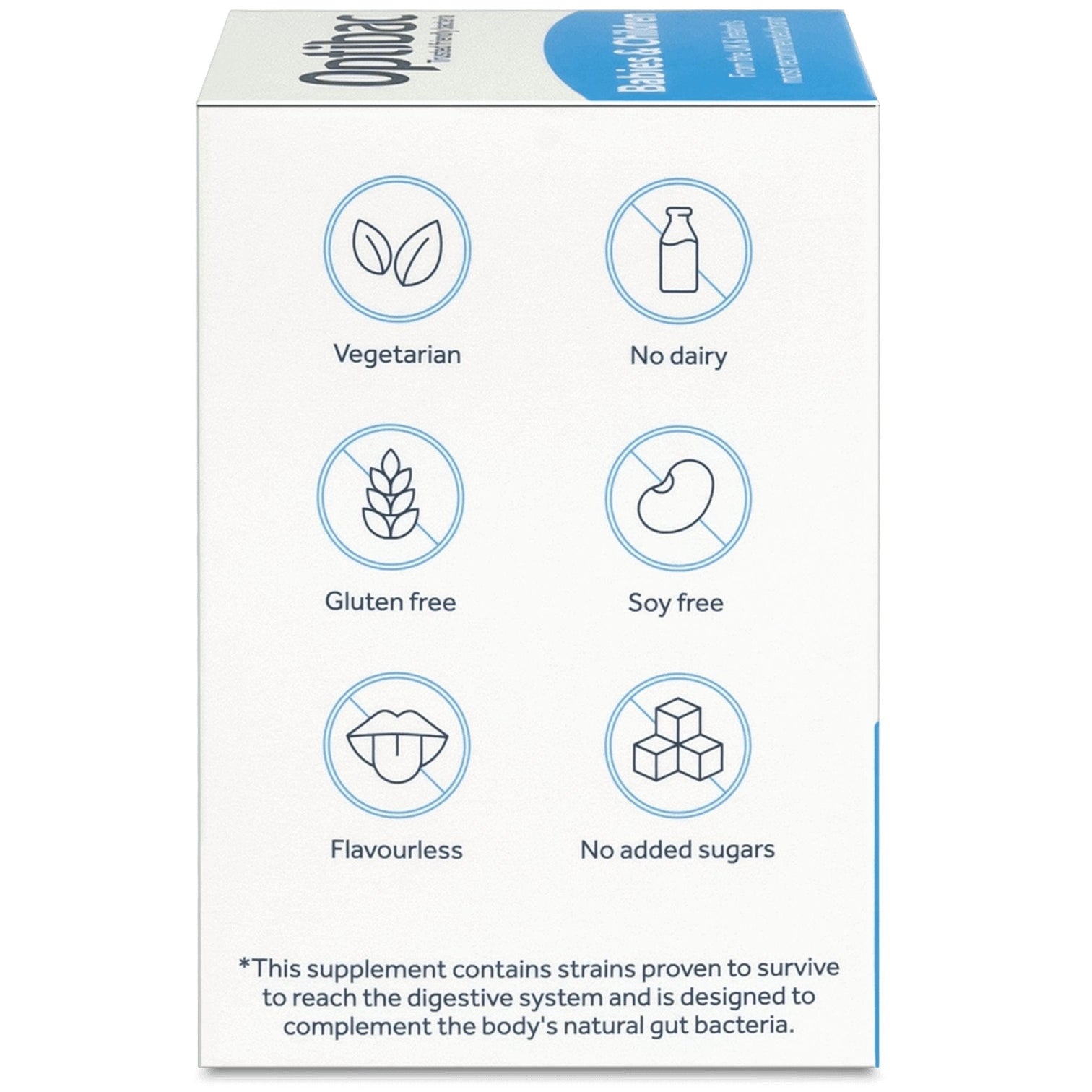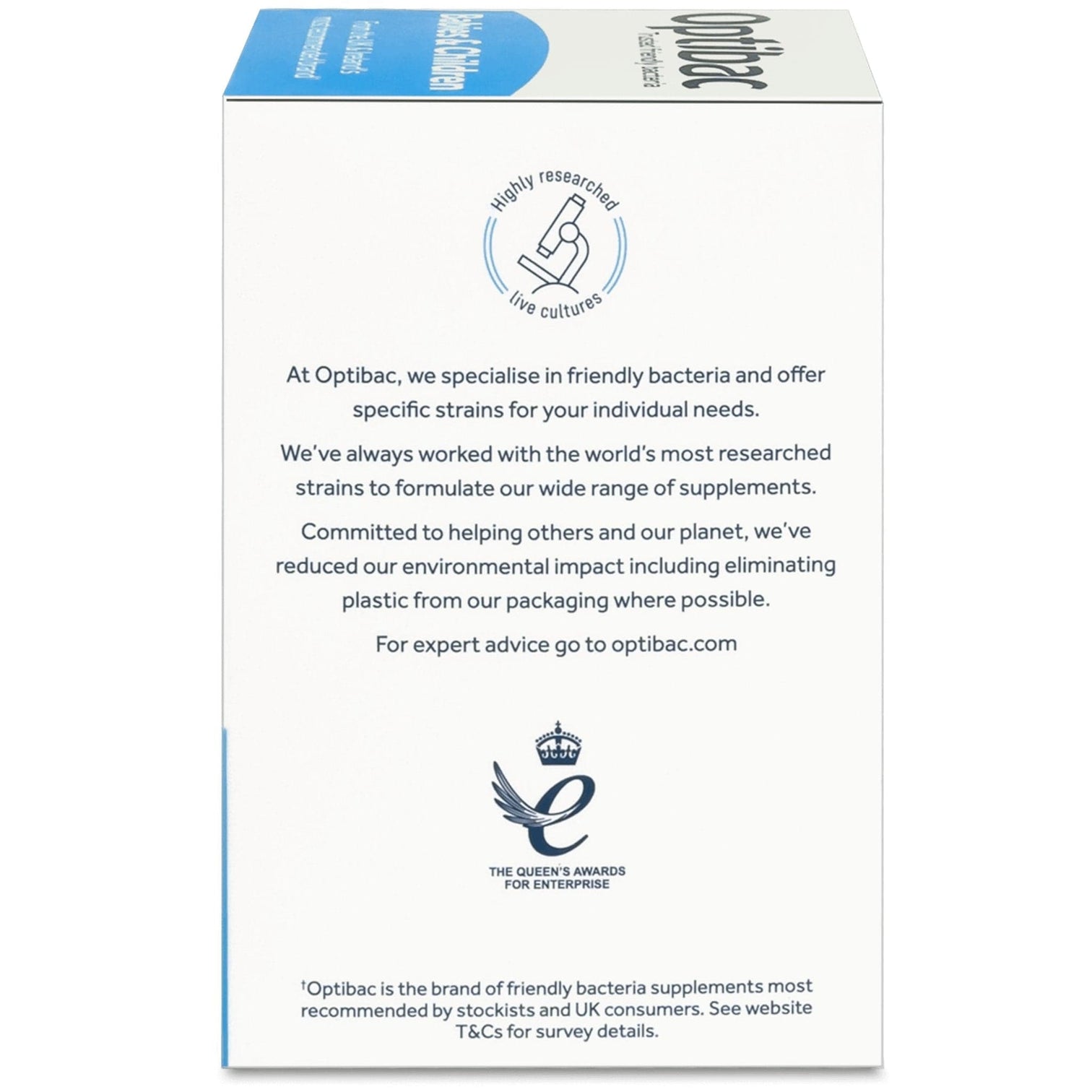 Optibac Babies & Children - 30 Sachets
€ 18.95 EUR
Regular price
€ 19.95 EUR
Developed especially for babies, toddlers and children, this friendly bacteria supplement contains a unique blend of 3 of the most scientifically researched strains for children from 0 to 12 years, as well as FOS fibres and added vitamin D3 to help maintain immune health.
New & Improved
We've updated the ingredients in this supplement to a unique blend of 3 of the most researched friendly bacteria strains for babies & children. Babies & Children now contains Lactobacillus rhamnosus GG – the most researched friendly bacteria strain in the world – as well as Vitamin D to support immunity.
Existing customers can continue to use it just as before.
Who is Optibac Babies & Children for​?
Expertly formulated especially for babies, toddlers and children up to 12 years old.
Key benefits
Expertly formulated digestive supplement for little tummies
Contains three high quality, extremely well researched friendly bacteria strains
Each sachet provides 3 billion live cultures (guaranteed until end of expiry)
Includes

 

L. rhamnosus GG, the most scientifically studied strain in the world
With added vitamin D3 to help maintain immune health
Source of FOS fibre (0.5g of fructooligosaccharides)
Suitable from birth up to 12 years
Collectively, these 3 strains have been clinically trialled in thousands babies & children worldwide
Friendly bacteria scientifically proven to reach the gut alive and complement the natural gut bacteria 
Easy to take sachet (flavourless) - simply mix with cool, non-acidic food or drinks
No refrigeration necessary
From the UK's most trusted & recommended brand of friendly bacteria supplements.+
Available to buy in three pack sizes of 10, 30 or 90 sachets.
Updated name and packaging
We have also introduced new designs with eco-conscious packaging this year, which have been updating gradually from product to product to minimise any waste. We hope you like the new look!
This supplement was previously called OptiBac 'For babies & children' in the EU and 'For your child's health' in the rest of world.
Customer Questions
All questions answered by Kerry Beeson BSc (Nut. Med.) Nutritional Therapist.
Can you give a child too many friendly bacteria?
Live cultures are very safe for children1,2 and it's not thought to be possible to 'overdose' on them, so don't worry about giving your child too many. However, there's no reason to use more than they need and in general, it is best to give them the recommended dosage. Optibac Babies & Children provides the recommended daily dose of 3 billion live cultures per sachet.
Is Optibac Babies & Children a vegetarian supplement?
Yes, Optibac Babies & Children is vegetarian. There is no dairy present at any stage of the manufacturing, the probiotic strains are vegan but the added Vitamin D3 is vegetarian. It is also gluten-free
Suitability
Vegetarian
No dairy
Gluten free
Yeast free
GMO free
No added sugars
Free from artificial flavourings, colourings and preservatives
No chemicals or parabens
Preparation
Best taken with a meal, preferably with breakfast
Simply mix with your child's favourite cool, non-acidic foods or drinks – try sprinkling the powder over cereal, mixing it with yogurt, or dissolve in water or milk.
Can be taken with formula milk - simply add to the bottle once it has cooled down to room temperature (as heat reduces the viability of natural bacteria).
For breastfed babies, powder can be applied to nipple or clean finger for baby to suckle.
Recommended amount
Give 1 sachet daily.
If desired or professionally directed, can be increased to 2 sachets a day