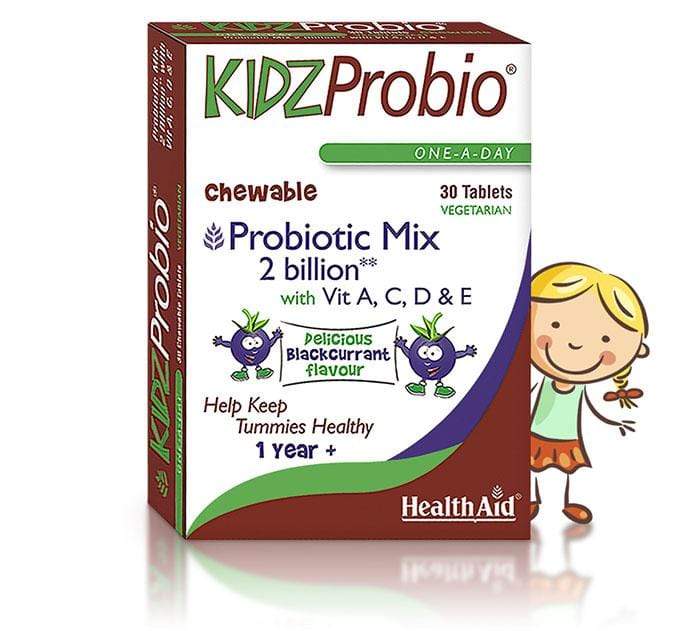 HealthAid Kidz Probio®(2 billion) Vitamin A,D,E,C - 30 Chewable Tabs
KidzProbio Chewable Tablets is a unique formulation containing special viable strains of Lactobacillus and Bifidobacterium designed with your child's wellbeing in mind. Together with the added benefits of Vitamin A, C, D and E; KidzProbio helps keep the digestive system in balance, provides essential support under conditions of digestive disorders, helps regain flora balance following antibiotic therapy, and promotes healthy growth and development. HealthAid uses special acid & bile resistant strains, which prevent the stomach juices destroying the ingredients before they reach the intestines, ensuring their purity and potency. KidzProbio comes in a great blackcurrant flavour which children will enjoy!
What Are KidzProbio Tablets For?
Plays a vital role in maintaining good health
May help reduce the duration/ recurrence ofdiarrhoea 
Contributes to the maintanance of a healthy bowel function
Contributes to the maintanance of a healthy immune system
Helps improve absorption and assimilation of nutrients
Contributes to the maintanance of a healthy gastrointestinal balance of good and potentially harmful bacteria
May help in the production of certain vitamins needed by the body
May improve lactose absorption in children who are lactose intolerant
KidzProbio Tablets may be of benefit to:
Children who have abnormal or irregular bowel movement
Children who need to maintain a healthy immune system
Children with poor digestive systems
Children who are following a course of antibiotics
Children who follow a poor diet, low in nutrient-rich foods
Recommended Daily Intake of KidzProbio Chewable Tablet :
For adults and children over 3 years of age; chew one tablet daily before a meal. For children younger than 3; tablets can be crushed and the powder can be mixed with food or drink. Must be used immediately once crushed. Do not exceed recommended daily intake unless advised by a suitably qualified person.
CAUTION: If diarrhoea occurs after taking this product, reduce the intake to half the recommended amount. If diarrhoea persists then discontinue use.
† Excessive consumption may produce laxative effects.


** Food Supplements should not be used as a substitute for a varied and balanced diet and healthy lifestyle.
** Free From Artificial Colours, Preservatives and Flavourings.
Each KidzProbio Chewable Tablet Contains (Average):
%NRV
Vitamin A (2667 iu)
800μg
100
Vitamin D (200 iu)
5μg
100
Vitamin E (18 iu)
12mg
100
Vitamin C
80mg
100

Probiotic Blend

(Lactobacillus acidophilus, Lactobacillus salivarius, Lactobacillus paracasei, Bifidobacterium bifidum, Bifidobacterium lactis)

2 billion**
*