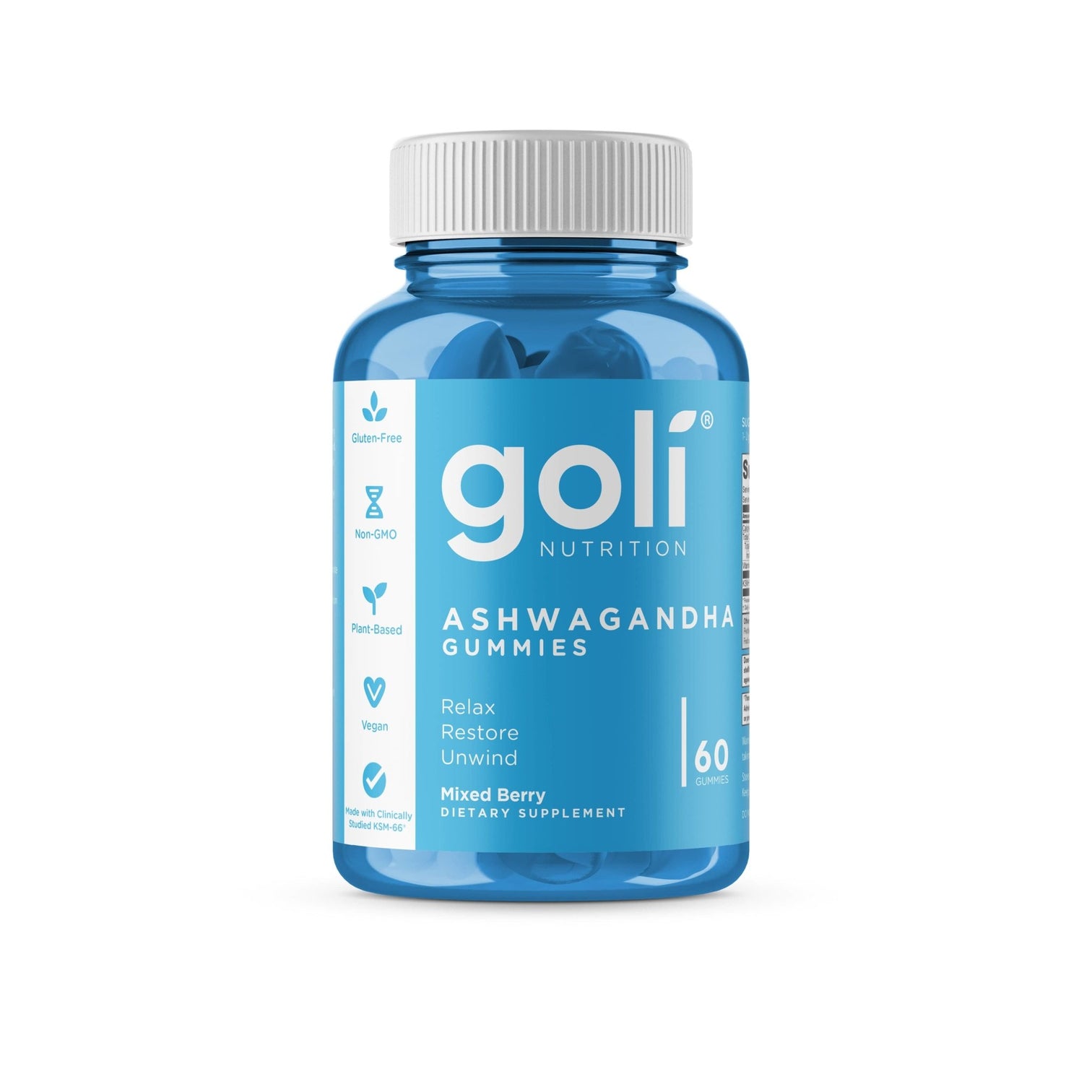 Goli Ashwa - Ashwagandha Gummies - 60 Gummies
€ 23.95 EUR
Regular price
€ 24.95 EUR
Goli Ashwagandha

 

 - The World's Most Powerful Ashwagandha Gummies
Best Before Date: 30th April 2025
Delicious, effective, and highly bioavailable. Made with KSM-66® Ashwagandha
Keep Calm and De-Stress -  KSM-66®Ashwagandha has been clinically proven to help:
Promote Calmness & Reduce Stress
Support Weight Management
Improve Your Mood
Improve Your Sleep
Support a Healthy Immune System
Improve Physical Performance
Enhance Memory & Cognition
Improve Sexual Function


More Details:
Promote Calmness & Reduce Stress
Ashwagandha is classified as an adaptogen. Adaptogens are a select group of plants that help your body cope with stress. Studies have shown that KSM-66® ashwagandha significantly reduces levels of cortisol - the stress hormone.
Support Weight Management
Chronic stress can cause us to overeat and gain unwanted weight. Research has shown that by lowering cortisol levels, KSM-66® ashwagandha can help reduce cravings and stress-associated weight gain.
Improve Your Mood.

Studies have shown that ashwagandha's adaptogenic qualities can not only reduce stress but also encourage a general feeling of well-being.
Improve Your Sleep
For centuries, ashwagandha has been recommended for a good night's sleep - and research backs this up. Studies have shown that KSM-66® ashwagandha can improve sleep efficiency, total sleep time, and sleep quality.
Support a Healthy Immune System
Both traditional and modern-day use suggests that ashwagandha could help improve our body's immune function.
Improve Physical Performance 
During exercise, ashwagandha is believed to improve energy supply to our muscles, boosting cardiovascular endurance and strength.
Studies have also shown that KSM-66® ashwagandha could improve muscle size and strength as well as supporting natural testosterone production.

Enhance Memory & Cognition
Research has shown that KSM-66® effectively supports the improvement of memory and cognitive abilities as well as information processing, executive function, and attention in healthy individuals.
Improve Sexual Function
KSM-66® ashwagandha supports sexual function and wellness in both men and women.
Ingredients
KSM-66® Ashwagandha : The ancient Indian herb ashwagandha (Withania Somnifera) has been revered for its medicinal qualities for over 5,000 years and is rooted in Ayurveda. Ayurveda, a holistic and natural system of medicine, is based on the concept that health and wellness depend on a balance between physical and mental health by leveraging natural medicine.
Ashwagandha is also an adaptogen—a plant that helps the body maintain balance and adjust to stress. This function of Ashwagandha is well-documented and heavily backed by modern science.
KSM-66® is the highest concentration ashwagandha extract on the market and has the most extensive set of research behind it supporting various health benefits.
KSM-66® Ashwagandha has been clinically proven to:

Help reduce stress and tension
Help promote memory and cognitive function
Support a healthy heart function
Support endurance, strength, muscle size
Improve sleep quality
Support sexual function
Support healthy weight management
Support immune health
This extract has a strong scientific base with over 24 studies that support its effectiveness: 10 published studies, 6 additional studies complete and in peer review, and 8 ongoing studies.
The makers of KSM-66® vertically integrated its manufacturing to produce the highest quality and premium extract. They built a sustainable supply chain and a unique green extraction process that allows the herb to retain its benefits. It's the most highly bioavailable extract available on the market. Both traditionally and as well as in modern science, the roots of the ashwagandha plant (and not the leaves) have been recommended to be used for its adaptogenic properties. KSM-66® strictly uses the roots alone and no other part of the plant
KSM-66® is also the botanical with the highest number of certifications and safety measures for manufacturing. It is USDA Organic, Gluten-Free, Kosher, and has many certificates including ISO's, and cGMP from USP, NSF, WHO, and UL-NPA.
Pectin is a fiber and a natural prebiotic that helps support a healthy gut for healthy digestion. It creates a beneficial environment that encourages gut flora to flourish.
Calories
10
Total Carbohydrate
3.5g
Total Sugars
2g
KSM-66®

 

Ashwagandha Root Extract
150mg
Our Gummies Do NOT Contain:
Yeast, wheat, milk, eggs, gluten, soy, gelatin, peanuts, shellfish, dairy, artificial sweeteners, colors from artificial sources, artificial flavors, agave, artificial preservatives, or salicylates.
Full List of Ingredients.
Organic Tapioca Syrup, Organic Cane Sugar, Water, Pectin, Natural Flavors, Malic Acid, Citric Acid, Sodium Citrate, Organic Fruit and Vegetable Juice (Color), Organic Sunflower Lecithin.
Gluten Free
Non GMO
Plant Based
Vegan
Vitamin Angels
Malnutrition is the #1 cause of preventable child deaths. That's why Goli is proud to support the work of Vitamin Angels, who continually strive to reduce malnutrition in children by giving them access to lifesaving vitamins and minerals. Every purchase made provides a 1-for-1 Vitamin grant through our partnership with Vitamin Angels to provide a child in need with a 6-month supply of vitamins.