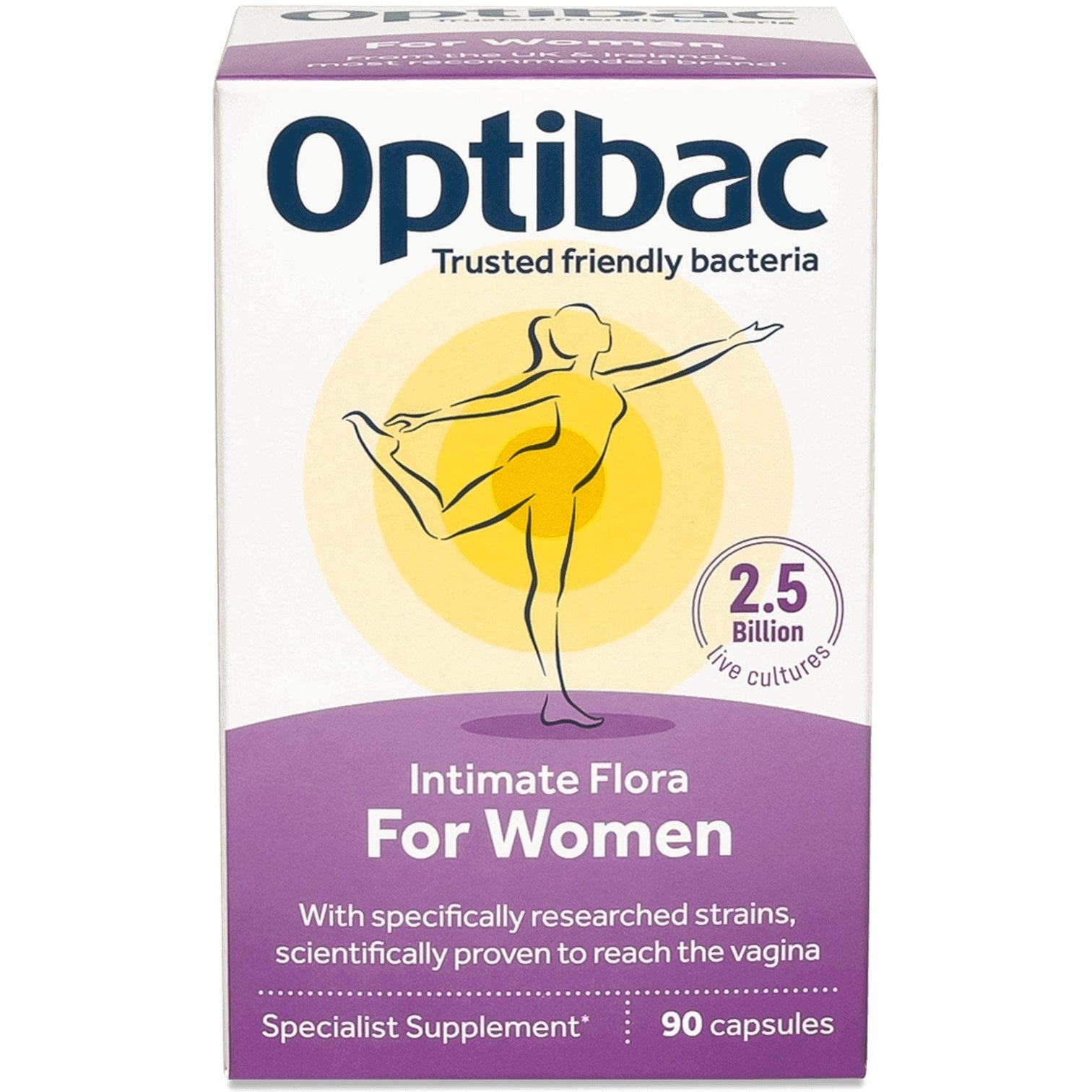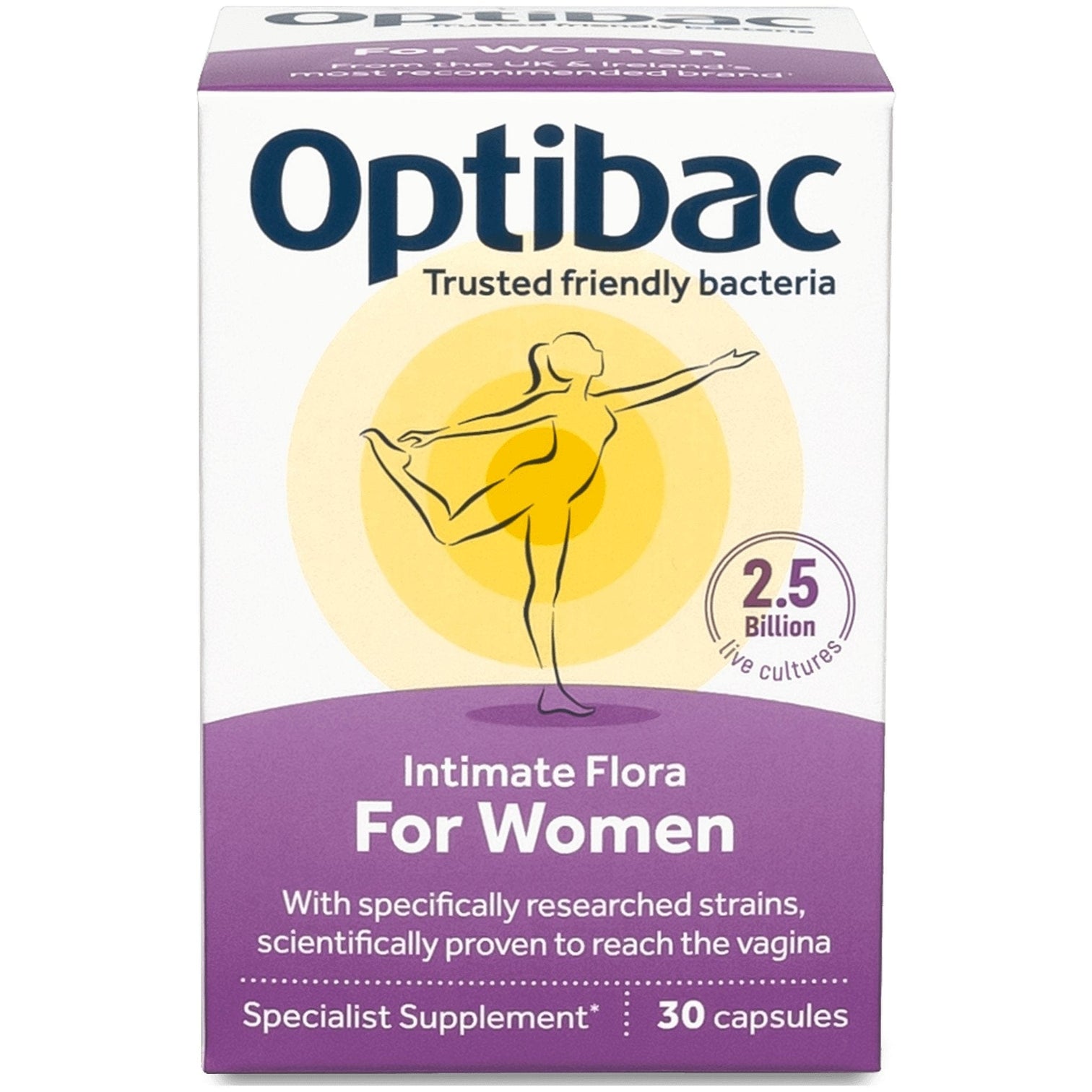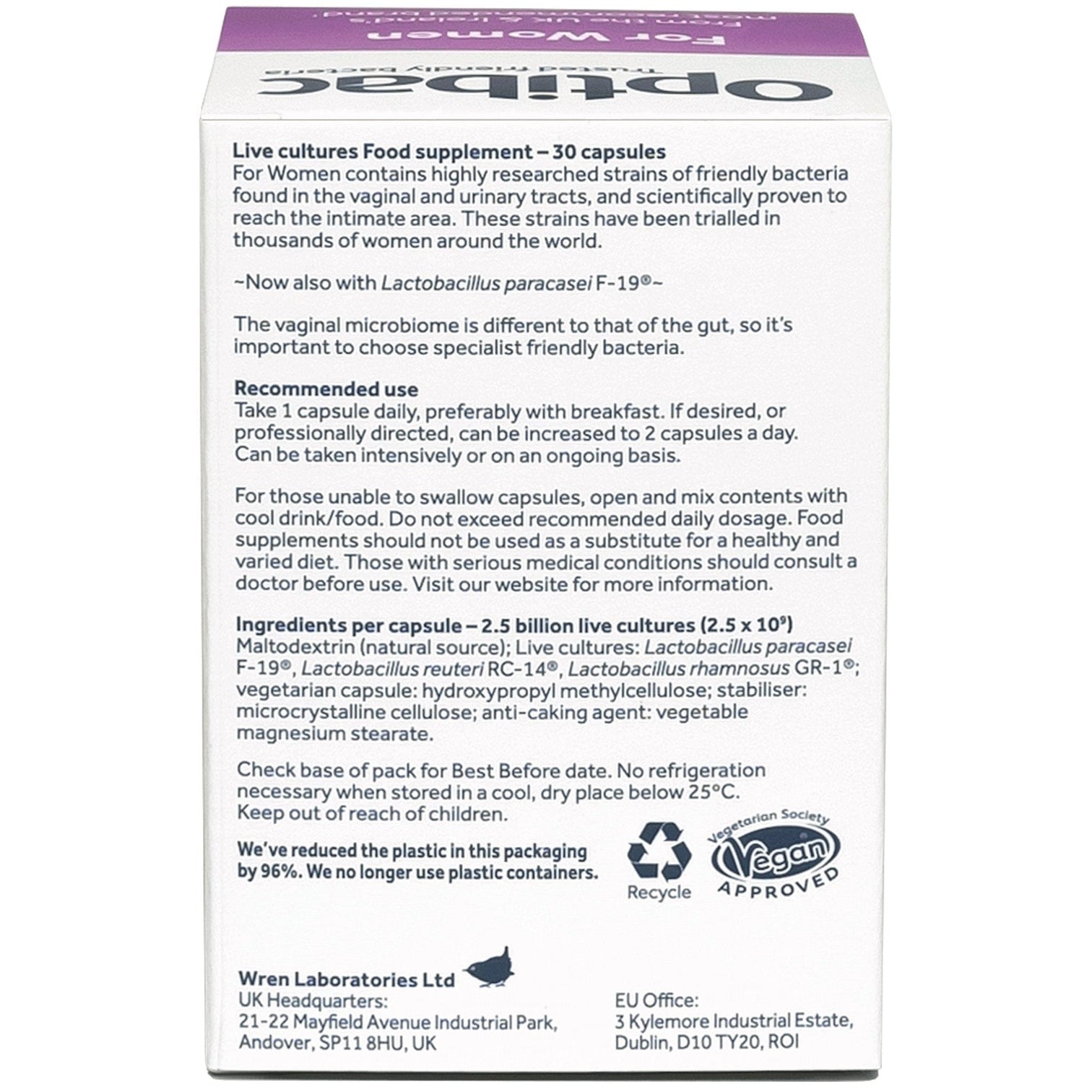 Optibac For Women - 30/90 Caps
€ 55.15 EUR
Regular price
€ 67.50 EUR
Highly researched friendly bacteria supplement especially for women.
A high-quality friendly bacteria supplement especially formulated for women, with specifically researched strains scientifically proven to reach the vagina alive.
✔ EXTREMELY WELL-RESEARCHED - A high-quality friendly bacteria supplement especially formulated for women from all walks of life. Contains the world-renowned Lactobacillus rhamnosus GR-1® and Lactobacillus reuteri RC-14®, which have been clinically trialled by over 2,500 women around the world, in over 25 scientific studies during 30 years of research.
✔ HIGH-QUALITY STRAINS - Providing specifically researched strains natural to the vaginal & urinary tract, this supplement has been formulated especially to increase levels of lactobacilli naturally present in the vagina. Scientifically proven to survive to reach the vagina alive, when taken orally.
✔A NATURAL OPTION - Easy-to-take capsules for women of all ages, including teenagers, pregnant & breastfeeding women, older women, women during menopause, and anyone who feels they could benefit. Suitable for intensive or long-term daily use.
✔ GUARANTEED BILLIONS - Each capsule provides the highest quality friendly bacteria at 2.5 billion CFU. The billions count is guaranteed until expiry date.
✔NO REFRIGERATION - Shelf-stable friendly bacteria supplement. Optibac uses only high-quality bacteria, tested to ensure potency at end of shelf life. Does not require refrigeration. Store in a cool, dry place below 25°C and out of direct sunlight.
✔ VEGAN-FRIENDLY - Suitable for vegans, vegetarians, and those on gluten-free, dairy-free & yeast-free diets.
✔ Now also with Lactobacillus paracasei F-19® and providing 2.5 billion live cultures per capsule (previously 2.3 billion). Existing customers can continue to take it just as before. Also in our new eco-conscious packaging – the plastic in this packaging has been reduced by 96%, as we are no longer using plastic containers. We hope you like the new look!
Enhanced Preparation & Usage
 Recommended Use:
Take 1 capsule daily, preferably with breakfast. If desired, or professionally directed, can be increased to 2 capsules a day.
Can be taken intensively or on an ongoing basis. Recommended for daily use.
For those unable to swallow capsules, open and mix contents with cold drink/food.
For Women can safely be taken alongside other supplements in the Optibac range.
Safety Information

Do not exceed recommended daily dosage. This is a food supplement and is not intended to diagnose, treat, cure or prevent any disease. Food supplements should not be used as a substitute for a healthy lifestyle and varied diet.
Live cultures are not recommended for those with serious medical conditions. If you are taking any medications or have a serious medical condition, consult a doctor before use. Keep out of reach of children.
Optibac supplements will not cause dependency and may be used on an ongoing basis.
Full Ingredients List
Ingredients per capsule: 2.5 billion live cultures
Maltodextrin (natural source); live cultures: (Lactobacillus paracasei F-19®, Lactobacillus reuteri
RC-14®, Lactobacillus rhamnosus GR-1®); vegetarian capsule: hydroxypropyl methylcellulose; stabiliser: microcrystalline cellulose; anti-caking agent: vegetable magnesium stearate