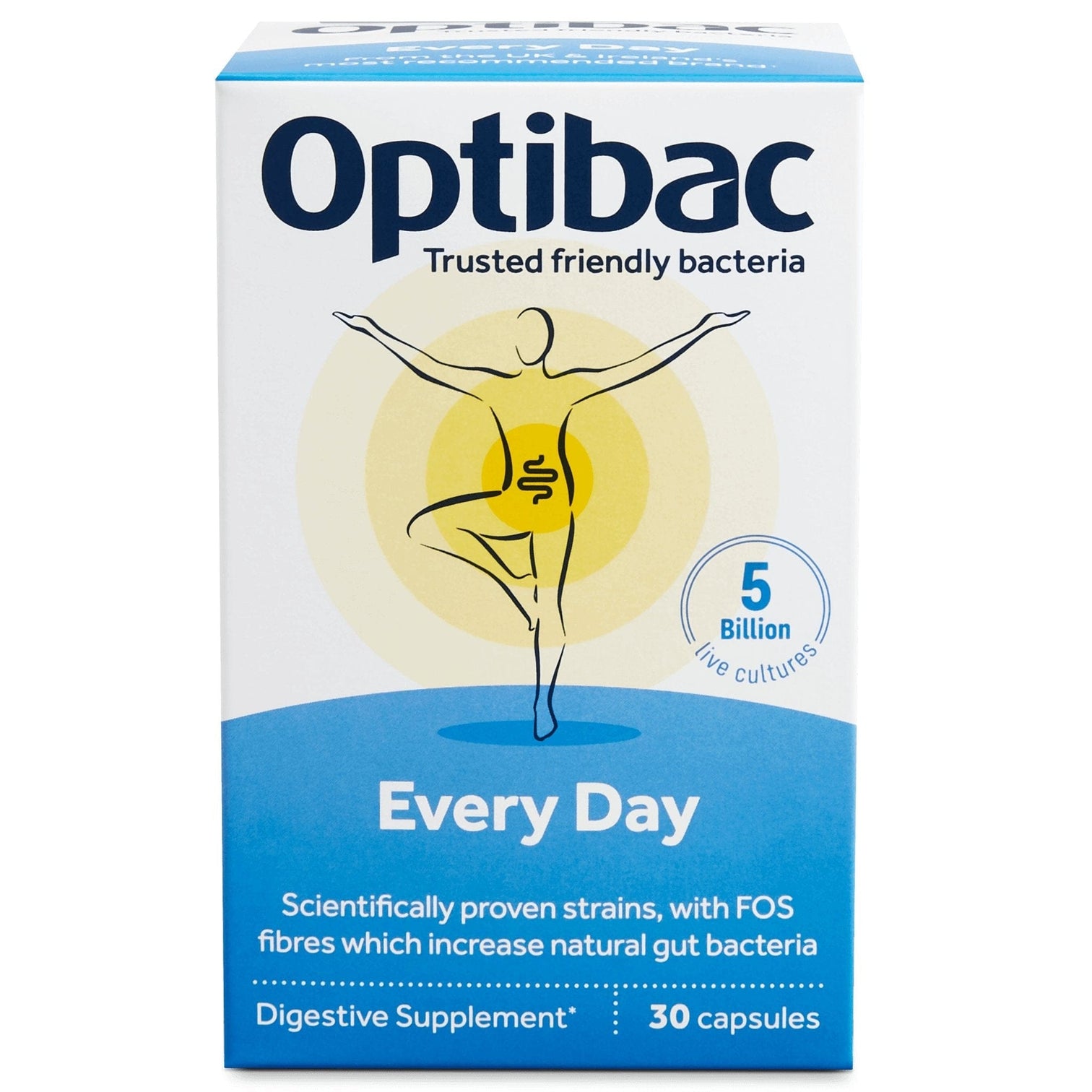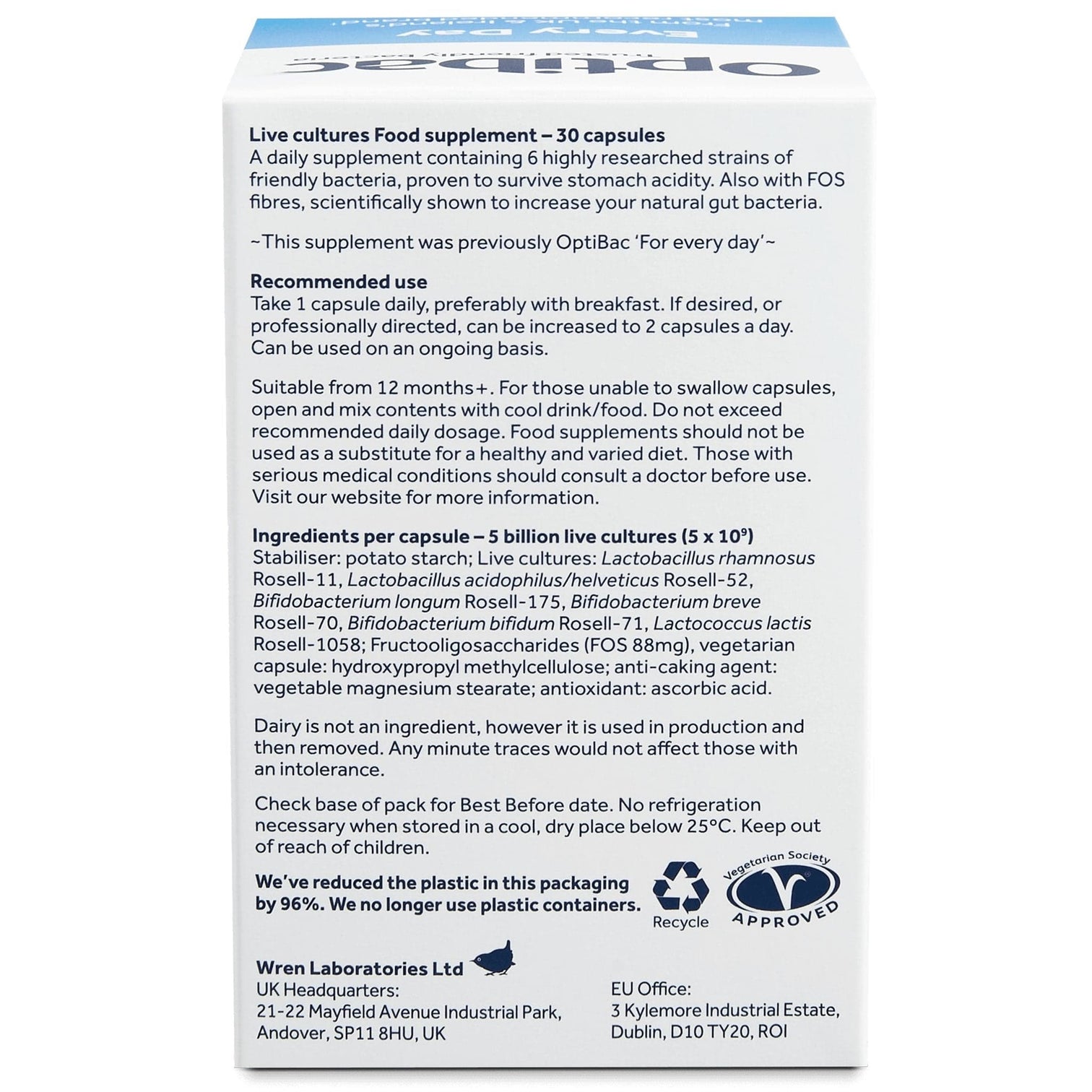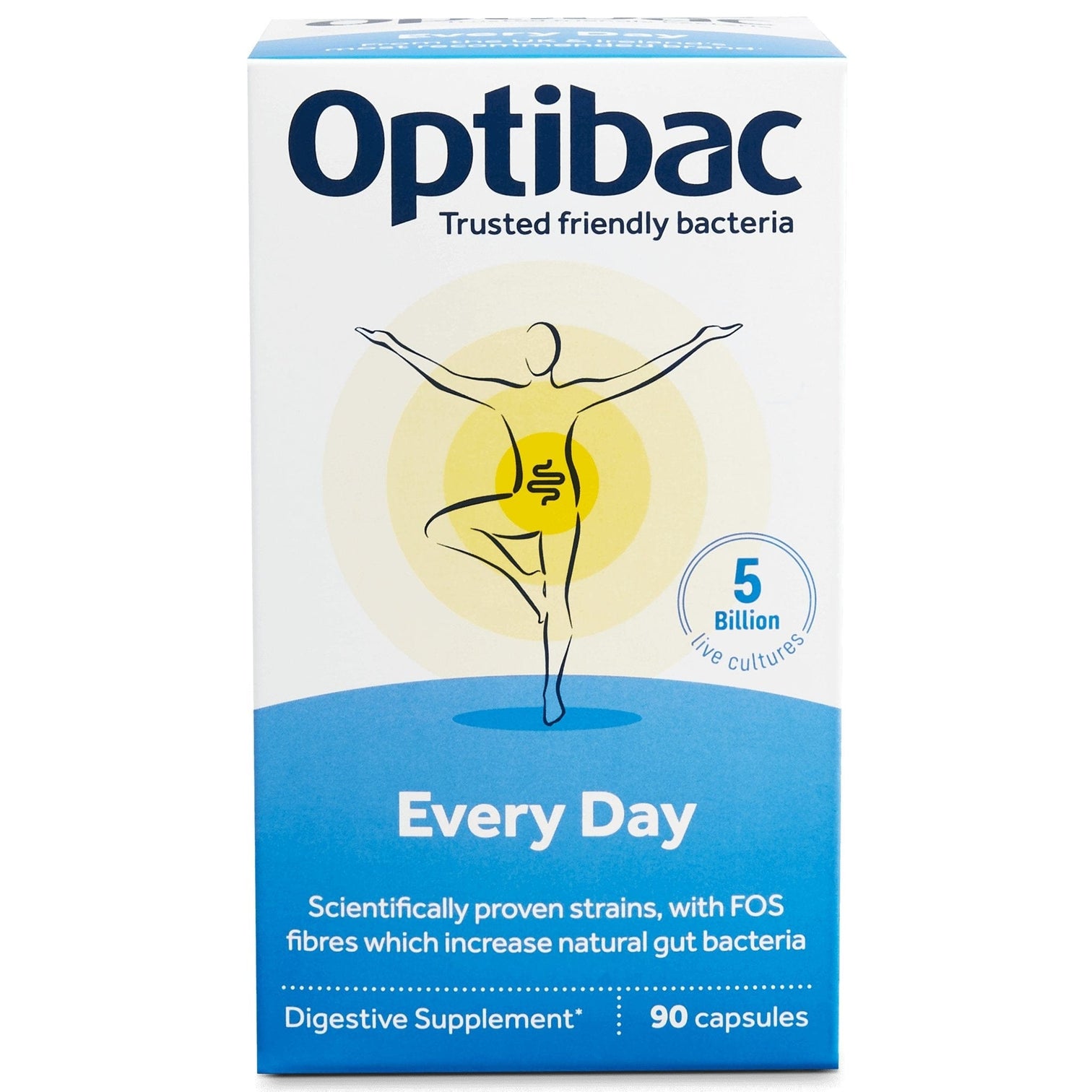 Optibac Every Day - 30/90 Caps
€ 14.95 EUR
Regular price
€ 15.95 EUR
Bestselling friendly bacteria supplement ideal for daily use.
A high-quality friendly bacteria supplement with FOS fibres, containing six different strains, ideal for daily use.

✔ WELL-RESEARCHED - This daily friendly bacteria supplement contains strains that are scientifically proven to pass through stomach acidity and survive to reach the gut alive, all in easy-to-swallow capsules!
✔ HIGH QUALITY, MULTI-STRAIN FORMULA - Contains six different high-quality strains from the Lactobacillus, Bifidobacterium and Lactococcus genera, which complement your natural gut bacteria.
✔ GUARANTEED BILLIONS - Each capsule provides the highest quality viable friendly bacteria at 5 billion CFU and 88mg FOS fibres, guaranteed until expiry date.
✔ NO REFRIGERATION - Shelf-stable friendly bacteria supplement. Optibac uses only the highest quality bacteria, tested to ensure potency at end of shelf life. Does not require refrigeration. Store in a cool, dry place below 25°C and out of direct sunlight.
✔ VEGETARIAN - Suitable for vegetarians and women during pregnancy & breastfeeding. Gluten free for those with coeliac disease or an intolerance.
✔ The name of this supplement was previously OptiBac 'For every day'. Now also in our new eco-conscious packaging - we hope you like the new look! The plastic in this packaging has been reduced by 96% as we are no longer using plastic containers.
Enhanced Preparation & Usage
 Recommended Use:
Take 1 capsule daily, preferably with breakfast.
Intake can be increased to 2 capsules a day if desired, or professionally directed.
Can be used on an ongoing basis.
Suitable from 12 months onwards. For those unable to swallow capsules, open and mix contents with cold drink/food.
Safety Information
Do not exceed recommended daily dosage. This is a food supplement and is not intended to diagnose, treat, cure or prevent any disease. Food supplements should not be used as a substitute for a healthy lifestyle and varied diet.
Live cultures are not recommended for those with serious medical conditions. If you are taking any medications or have a serious medical condition, consult a doctor before use. Keep out of reach of children.
Optibac supplements will not cause dependency and may be used on an ongoing basis.
Full Ingredients List
 Ingredients per capsule: 5 billion live cultures
Stabiliser: potato starch; Live cultures: (Lactobacillus rhamnosus Rosell-11, Lactobacillus acidophilus/helveticus Rosell-52, Bifidobacterium longum Rosell-175, Lactococcus lactis Rosell-1058, Bifidobacterium breve Rosell-70, Bifidobacterium bifidum Rosell-71); Fructooligosaccharides (FOS 88 mg); vegetarian capsule: hydroxypropyl methylcellulose; anti-caking agent: vegetable magnesium stearate; antioxidant: ascorbic acid

Please note: Dairy is not an ingredient, however it is used in production and then removed. Any minute traces would not affect those with an intolerance.