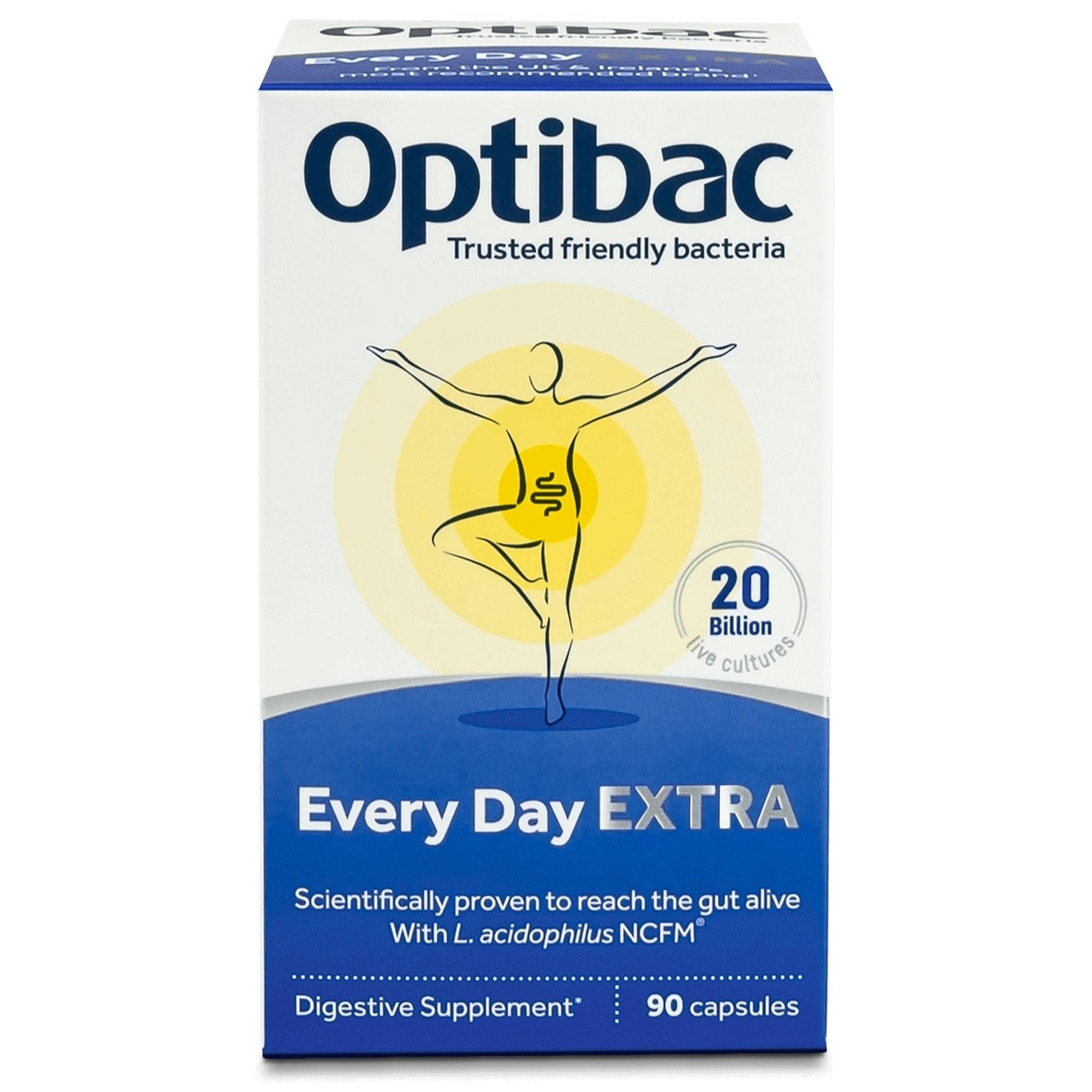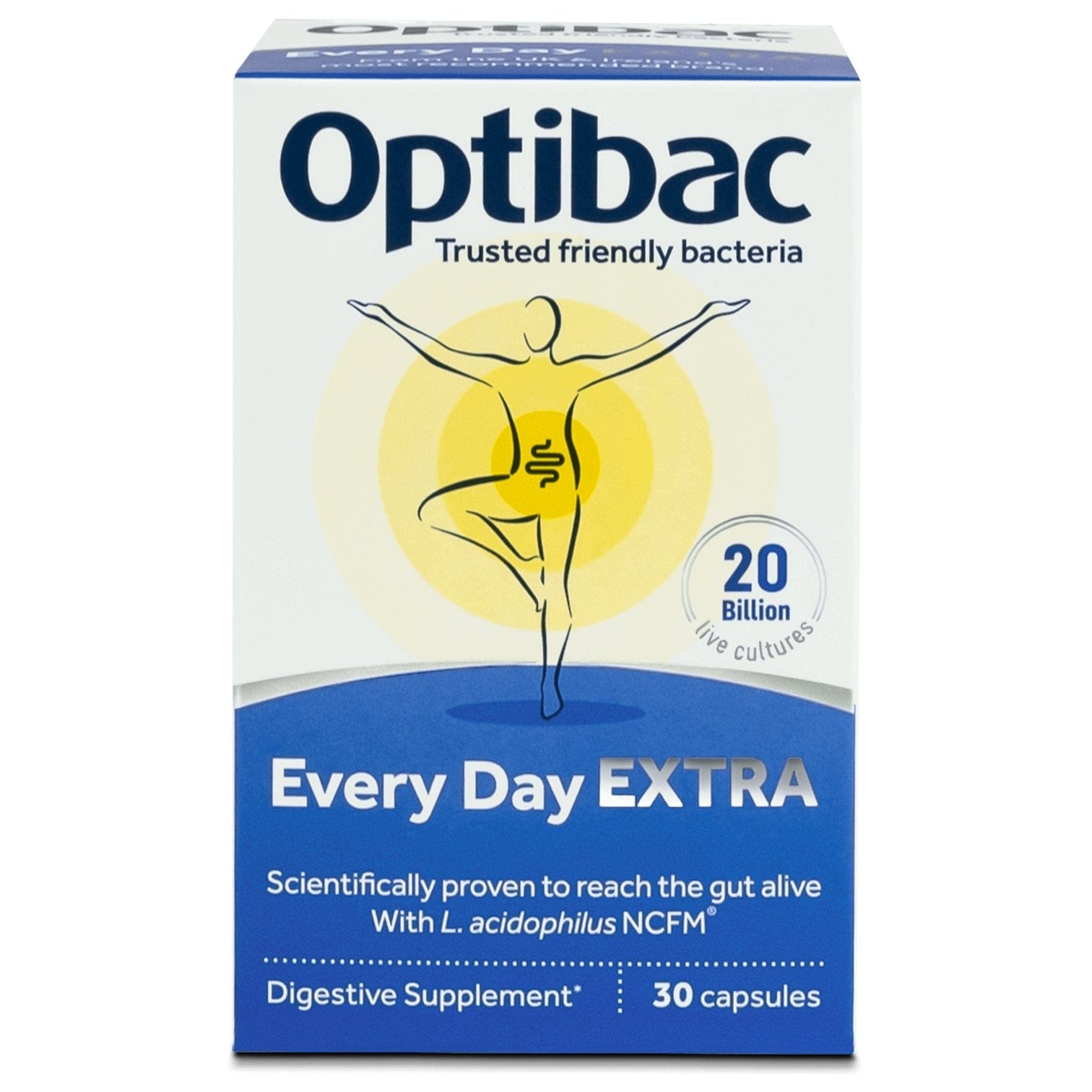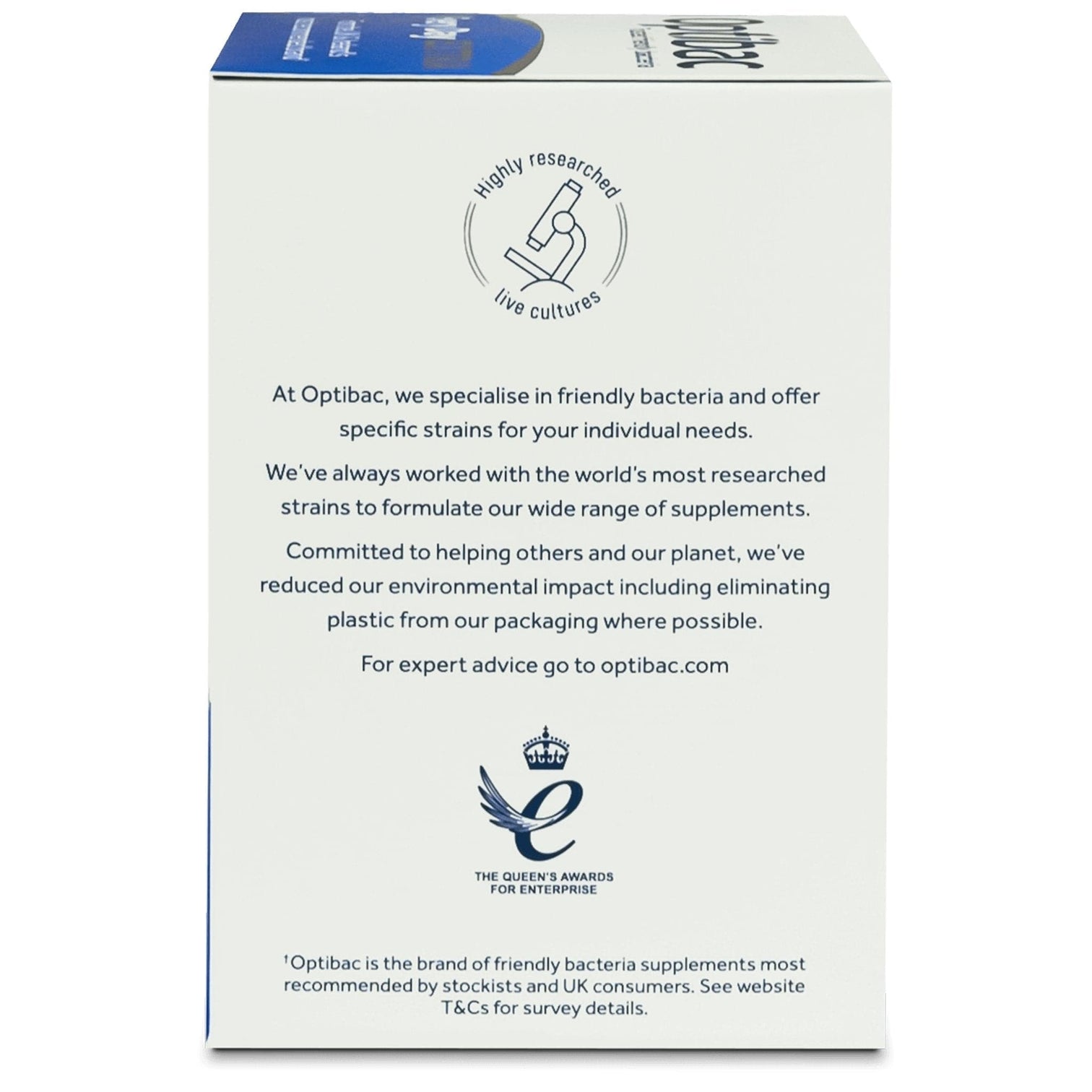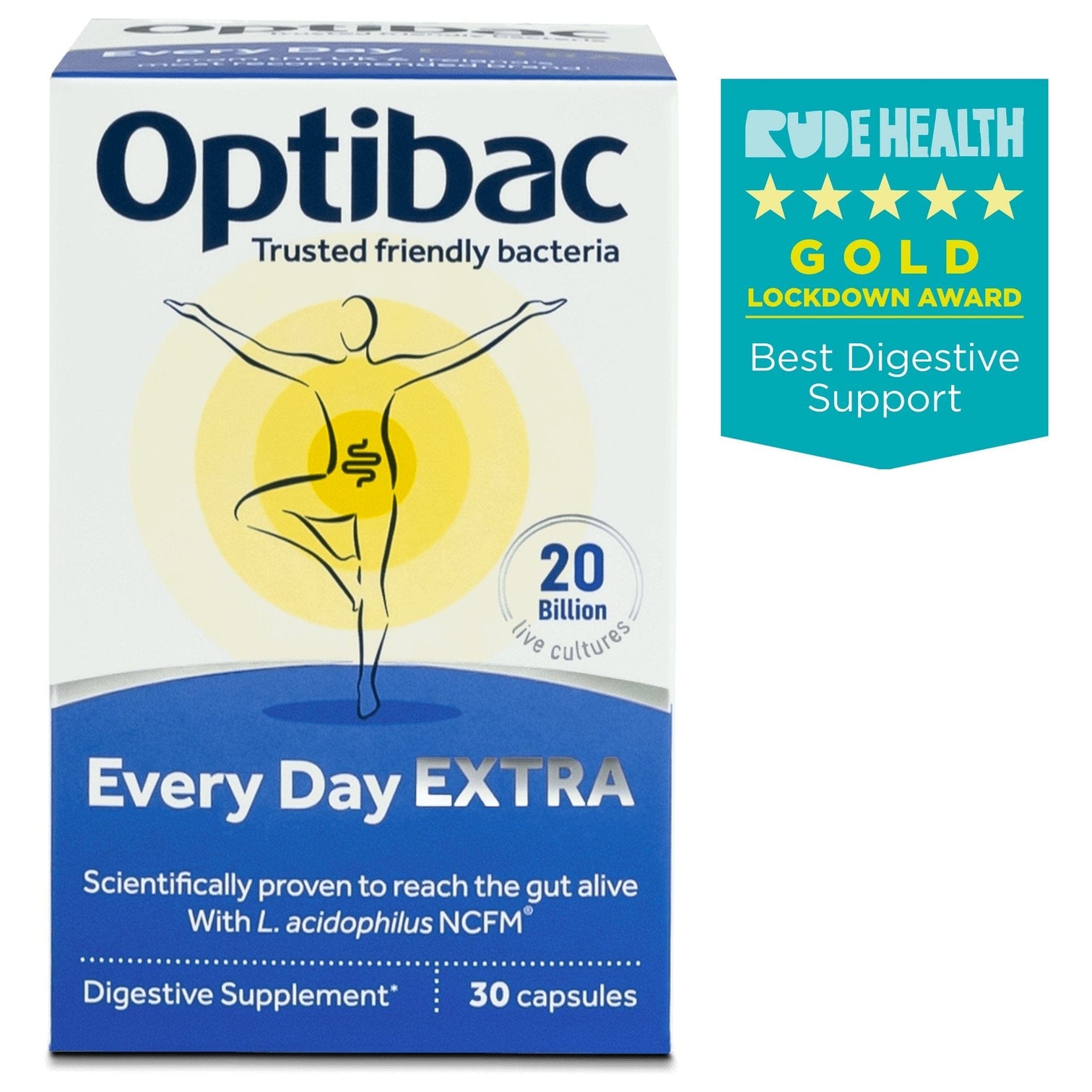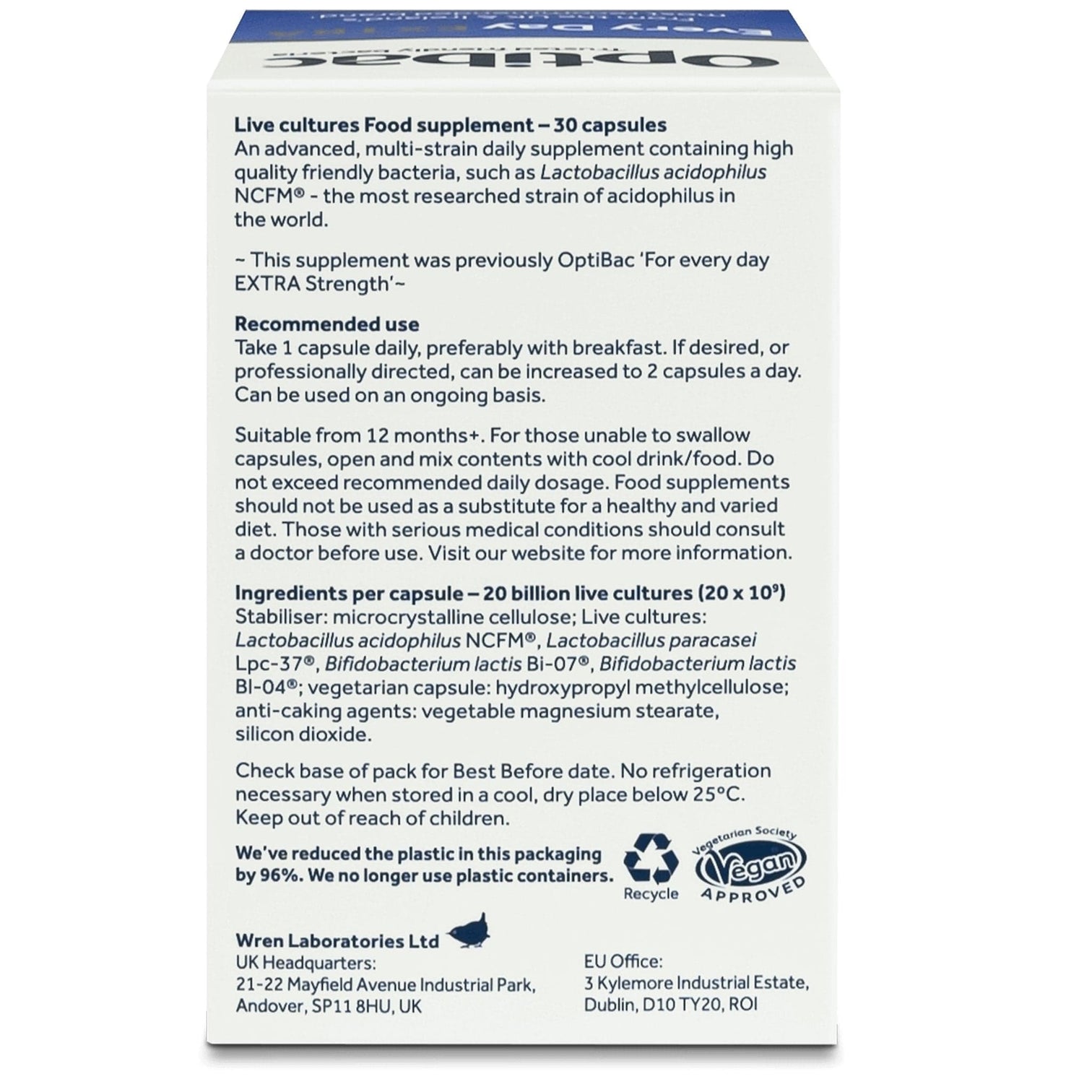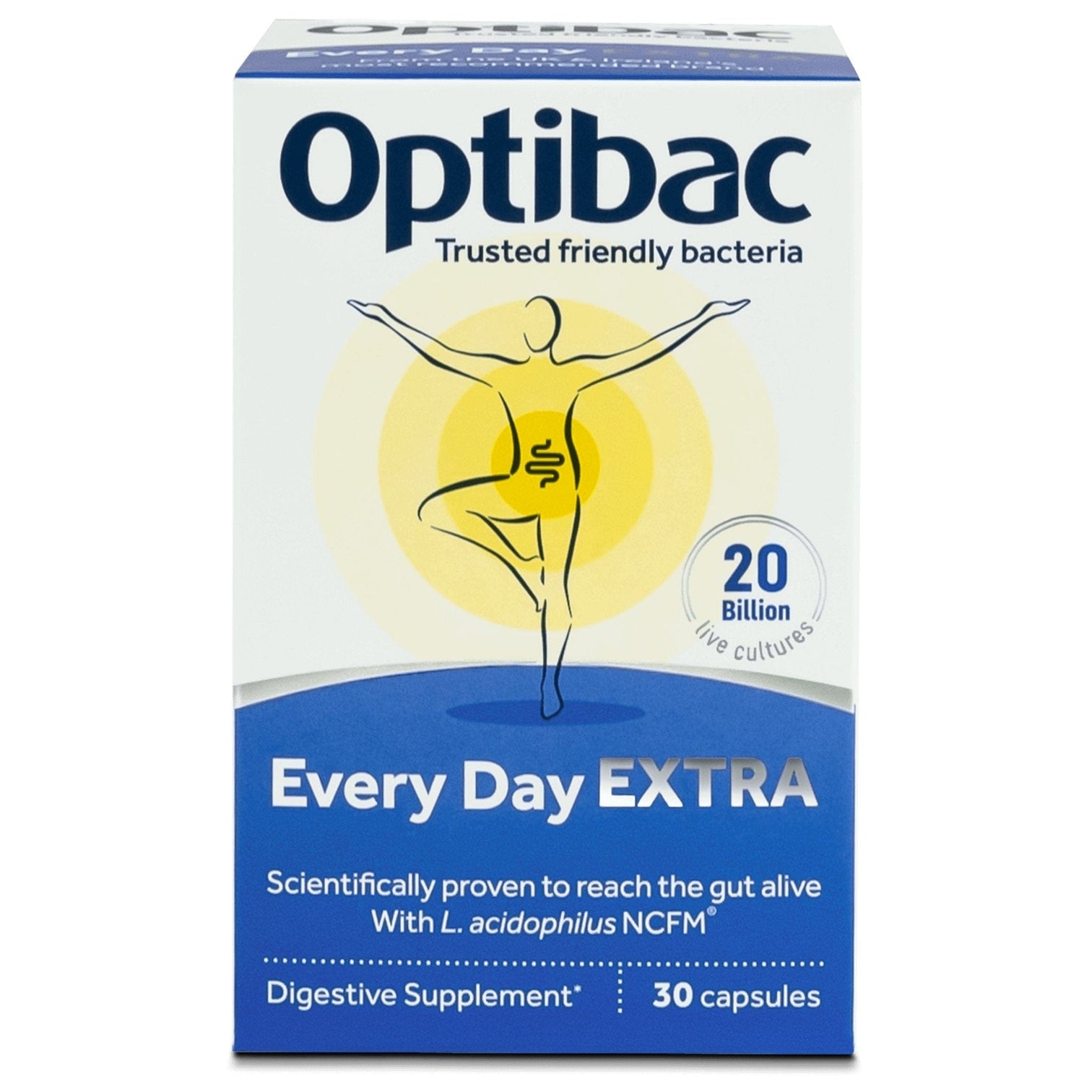 Optibac - Every Day EXTRA 20 Billion - 30/90 Caps
€ 66.75 EUR
Regular price
€ 69.95 EUR
An advanced, high strength daily supplement to complement your body's natural gut bacteria. Suitable for vegans, Every Day EXTRA contains Lactobacillus acidophilus NCFM®, the most researched acidophilus strain in the world.
Who is Optibac Every Day EXTRA for?
An advanced friendly bacteria supplement suitable for vegans, vegetarians, and gluten-free, dairy-free or soy-free diets. Recommended for optimal daily support to complement your body's natural gut bacteria.
Key benefits
Trusted, multi-strain friendly bacteria supplement
The strains in this supplement have been collectively studied in approximately 70 clinical trials
Lactobacillus and Bifidobacteria naturally occur in the digestive tract
This product provides live bacteria that are suited to both the small intestine (Lactobacillus species) and large intestine (Bifidobacterium species)
Complements the bacteria naturally present in your gut
Scientifically proven to reach the gut alive
Highest quality standards - subject to rigorous laboratory testing to ensure consistent quality and safety
Free from FOS (Fructooligosaccharides), may be suitable for those with IBS
20 billion live cultures per serving, guaranteed until end of expiry
Easy-to-take capsule
Shelf stable, refrigeration is not required
Winner of 2020 Rude Health Awards
From the UK's most trusted & recommended brand of friendly bacteria supplements. As determined in an independent survey of 1000 British women+.
Available in two pack sizes of 30 and 90 capsules – serving size 1 capsule per day.
Now dispatching in our new look!
We are introducing new, eco-conscious packaging this year, and the new designs will update gradually from product to product to minimise any waste. Please bear with us as you may receive orders with both current and new packaging over the coming months.  We hope you like the new look!
We've reduced the plastic in this packaging by 96%. We no longer use plastic containers.
This supplement was previously called OptiBac 'For every day EXTRA Strength' in the EU and 'For daily wellbeing EXTRA Strength' in the rest of the world.
Customer questions
All questions answered by probiotic experts Dr Kate Stephens PhD (Food and Microbial Sciences) BSc(Hons) Medical Microbiology and Kerry Beeson BSc (Nut. Med.) Nutritional Therapist.
How do I choose the best friendly bacteria for adults?
With so many brands to choose from, it can be difficult to choose the friendly bacteria supplement that's right for you. We recommend looking for good bacteria which is guaranteed to reach the gut alive, contains well-researched strains, is shelf stable and does not need refrigerating. It is always good to choose a product with great customer reviews, but most importantly it should contain strains researched especially for your needs.
What strength of live cultures should I take?
When it comes to friendly bacteria, 'more' is not always 'better'. It is more important to consider the quality of the good bacteria strains, and the number of gold standard clinical trials they have been featured in. It is also very important to ensure that this research is relevant for your individual needs. High-quality supplements containing well-researched strains1 should contain the same number of billions used in clinical trials.
Recommended use
For best results take 1 capsule daily, preferably with breakfast.
If desired, or professionally directed, can be increased to 2 capsules a day.
Can be used on an ongoing basis.
Suitable from 12 months onwards. For those unable to swallow capsules, the capsule can be opened and the contents mixed into cool food or drinks.
Do not exceed recommended daily dosage.
Ingredients
Stabiliser: micro-crystalline cellulose
Live cultures:

 

Lactobacillus acidophilus

 

NCFM®,

 

Lactobacillus paracasei

 

Lpc-37®,

 

Bifidobacterium lactis

 

Bi-07®,

 

Bifidobacterium lactis

 

Bl-04®
Vegetarian capsule: hydroxypropyl methylcellulose; anti-caking agents: vegetable magnesium stearate, silicon dioxide.
Each capsule guarantees 20 billion live cultures.
Suitability
Vegan
Vegetarian
No dairy
Gluten free
Soy free
Suitable in pregnancy
Suitable for breastfeeding
Yeast free
GMO free
Free from artificial flavourings, colourings and preservatives
No chemicals or parabens