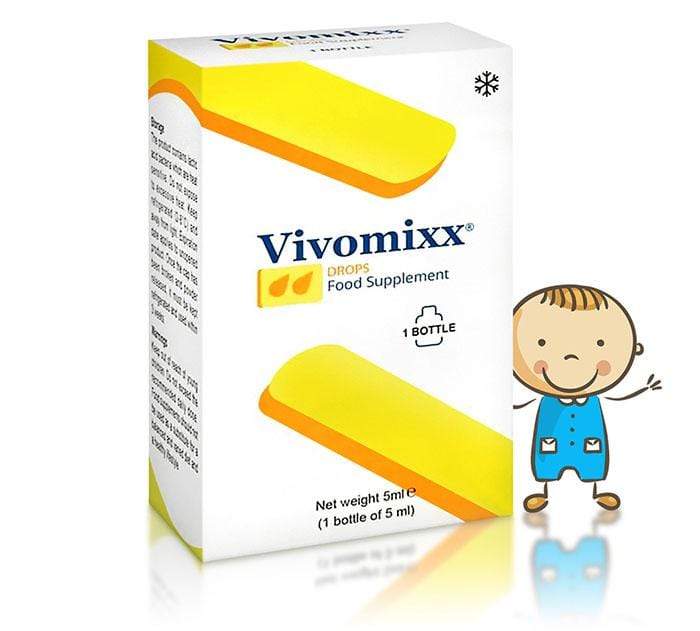 Vivomixx Paediatric Probiotic Drops - 50 billion - 2x Bottles
 Vivomixx™ is a food supplement containing a combination of 8 different strains of live lactic acid bacteria and bifidobacteria. Each bottle of VivomixxTM provides a blend of at least 50 billion bacteria in a powder form.
Packing
Each box contains 2 bottles of 5ml and 2 droppers.
1 bottle 10 days
Each tap contains 230mg of the De Simone Formulation




VIVOMIXX™ drops - 50 billion
The bacterial strains are the following:
Streptococcus thermophilus DSM 24731
Bifidobacteria (B. breve DSM 24732, B. longum DSM 24736, B. infantis DSM 24737)
Lactobacilli (L. acidophilus DSM 24735, L. plantarum DSM 24730, L. paracasei DSM 24733, L. delbrueckii subsp. bulgaricus DSM 24734)
Recommended Use
The recommended daily dose is 10 drops. Do not exceed the recommended daily dosage.
Screw the cap clockwise until obtaining the complete rupture of the ring nut to release the content of the measuring cap in the bottle. Shake vigorously to obtain a uniform suspension. Remove the measuring cap and place the drop dispenser. Always shake before every use. The product can be dissolved in water or any other cold liquid. Use one drop dispenser for each bottle.
Vivomixx ™ is safe and can be taken for as long as recommended by your healthcare practitioner.
NUTRITIONAL INFORMATION per 100ml

Energy value

743 Kcal

Energy value

3069 kJ

Fat

71 g

of which saturated

71 g

Carbohydrate

25 g

of which sugars

5,6 g

Protein

1 g

Salt

0,03 g
 Ingredients
Mix of lactic acid bacteria and bifidobacteria; filling agent: microcrystalline cellulose; anti-caking agents: fatty acids, magnesium salts of fatty acids; MCT oil.
SIDE EFFECTS
When you start taking VivomixxTM, you may experience bloating. This is a natural physiological event as your digestive tract adjusts to the additional bacteria in VivomixxTM. If you experience bloating, you may reduce your daily intake to allow for this adjustment.
STABILITY AND STORAGE
Keep refrigerated at 2-8°C. If stored refrigerated (2-8°C) and unopened, Vivomixx™ is guaranteed through the best before date; however, the product may be stored at room temperature (max 25°C) for up to one week without affecting its quality.
Shelf life is 18 months from the manufacturing date
PRECAUTIONS AND WARNING
VivomixxTM is a food supplement. Food supplements should not be used as a substitute for a varied and balanced diet and a healthy lifestyle.
Pregnant or breastfeeding women should talk with their doctor or other healthcare professional before taking this or any other food supplement.
VivomixxTM is believed to be compatible with all types of drugs. If you take it with antibiotics, make sure to take it far apart from them.
Keep out of reach of young children.
Note: This does not constitute medical advice, always consult your GP if you are concerned about your health.