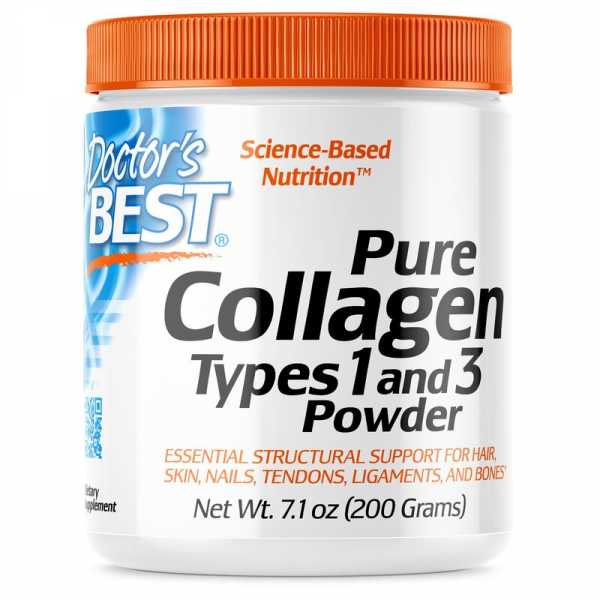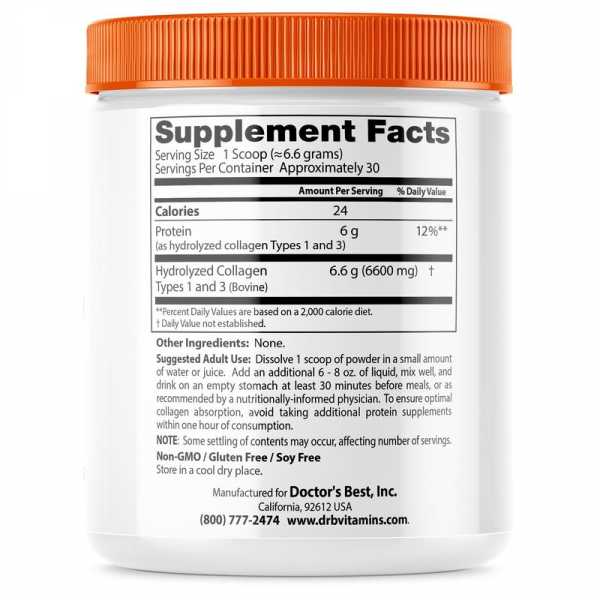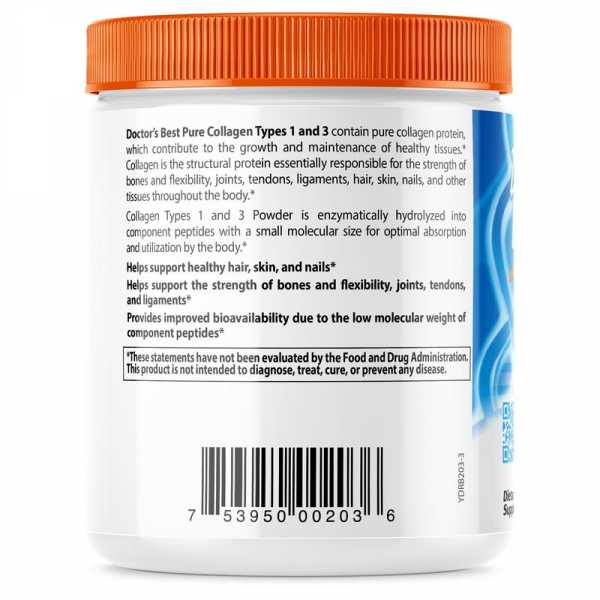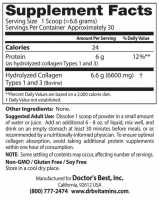 Doctor's Best Collagen Types 1 and 3 - 200g powder
Helps support healthy hair, skin, and nails*
Helps support the strength of bones and flexibility of joints, tendons, and ligaments*
Provides improved bioavailability due to the low molecular weight of component peptides*
Essential structural support for hair, skin, nails, tendons, ligaments, and bones*
Description
Science-Based Nutrition™
Essential Structural Support for Hair, Skin, Nails, Tendons, Ligaments and Bones
Non-GMO / Gluten Free / Soy Free
Doctor's Best Pure Collagen Types 1 and 3 contains pure collagen protein, which contribute to the growth and maintenance of healthy tissues. Collagen is the structural protein essential for the strength of bones and flexibility of joints, tendons, ligaments, hair, skin, nails, and other tissues throughout the body.
Collagen Types 1 and 3 Powder is enzymatically hydrolyzed into component peptides with a small molecular size for optimal absorption and utilization by the body.
Helps support healthy hair, skin, and nails
Helps support the strength of bones and flexibility, joints, tendons, and ligaments
Provides improved bioavailability due to the low molecular weight of component peptides.
Suggested use
Adult Use: Dissolve 1 scoop of powder in a small amount of water or juice. Add an additional 6-8 oz. of liquid, mix well, and drink on an empty stomach at least 30 minutes before meals, or as recommended by a nutritionally-informed physician. To ensure optimal collagen absorption, avoid taking additional protein supplements within one hour of consumption.
Other ingredients
None.
Supplement Facts
Serving Size:

 

1 scoop (~6.6 grams)
Serving Per Container:

 

Approximately 30 
 
Amount Per Serving
% Daily Value
Calories 
24 


Protein
(as hydrolyzed collagen Types 1 and 3)
6 g 


Hydrolyzed Collagen
Types 1 and 3 (Bovine)
6.6 g (6600 mg)


†
† Daily Value not established.
Advisory Information:
To ensure a healthy lifestyle, it is essential to maintain a varied and balanced diet. Food supplements should not be relied upon as a substitute for this. If you are pregnant, breastfeeding, taking any medications, or under medical supervision, it is advised to consult with a doctor or healthcare professional before using any supplements. If you experience any adverse reactions, discontinue use and seek medical advice. Please keep these products out of the reach of children and refrain from using them if the seal under the cap is broken or missing. Additionally, it is important to note that this product is intended for use by individuals who are 18 years of age or older. Warning: Please do not exceed the stated recommended daily dose.