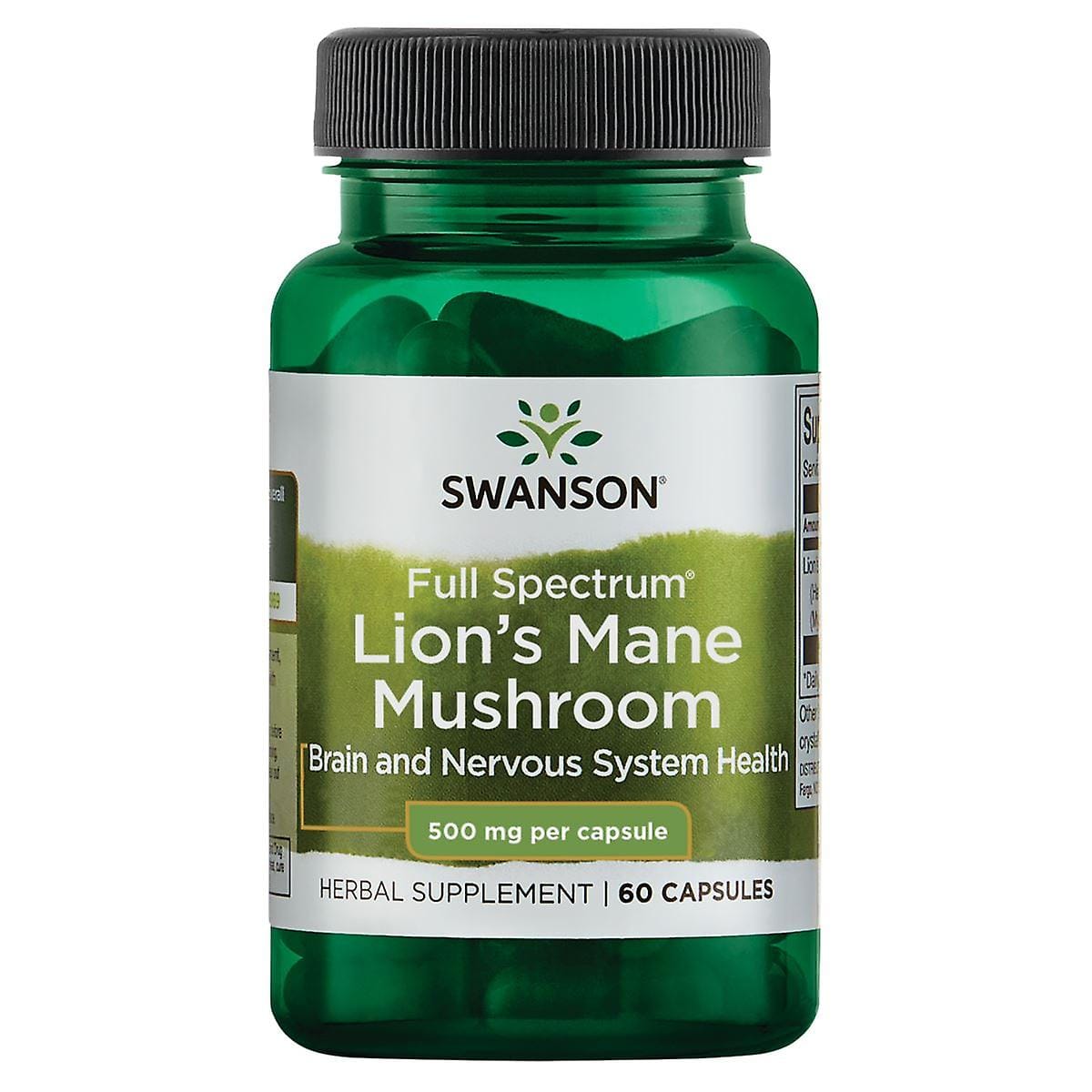 Swanson Lion's Mane Mushroom - Full Spectrum 500mg - 60 caps
Brain and Nervous System Health
Supports Balanced Mental and Overall Health
Maintains a Feeling of Calm While Remaining Alert
Full Spectrum

 W

hole Herb Formula
Sharpen your mental edge naturally with the power of Swanson Full Spectrum Lion's Mane Mushroom. For hundreds of years, the lion's mane mushroom has been treasured throughout China and Japan as a culinary delicacy. Preliminary research has revealed that lion's mane contains constituents known as erinacines, which may promote brain and nerve cell health.
Suggested use
As a dietary supplement, take one capsule two times per day with water. 
Supplement Facts
Serving Size: 1 Capsule
 
Amount Per Serving
%Daily Value*
 Lion's Mane Mushroom (Hericium erinaceus) (Mycelium biomass)
 500 mg
* 
*Daily Value not established.
Advisory Information:
To ensure a healthy lifestyle, it is essential to maintain a varied and balanced diet. Food supplements should not be relied upon as a substitute for this. If you are pregnant, breastfeeding, taking any medications, or under medical supervision, it is advised to consult with a doctor or healthcare professional before using any supplements. If you experience any adverse reactions, discontinue use and seek medical advice. Please keep these products out of the reach of children and refrain from using them if the seal under the cap is broken or missing. Additionally, it is important to note that this product is intended for use by individuals who are 18 years of age or older. Warning: Please do not exceed the stated recommended daily dose.