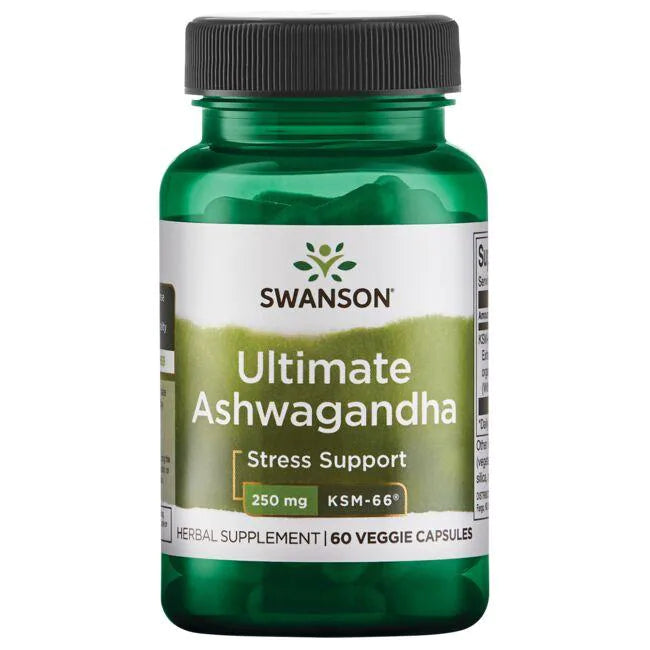 Swanson Ashwagandha Ultimate KSM-66 - 60 Caps
€ 16.95 EUR
Regular price
€ 17.95 EUR
Product Description
Adaptogenic herb used traditionally to promote relaxation and support a healthy response to daily stress
Encourages a calm and relaxed mindset
Made with KSM-66®—the most clinically studied ashwagandha available and made from certified organic ashwagandha
Stress-proof your mind and body with the high-powered adaptogenic support of Swanson Ultra Ultimate Ashwagandha. For thousands of years, Ayurvedic herbalists have treasured ashwagandha as a way to enhance mental and physical vitality, reinforce the immune system and mitigate the effects of stress. Modern science has revealed that this time-honored adaptogen features alkaloid constituents known as withanolides, which have a wide range of beneficial effects throughout the body.
Our Ultimate Ashwagandha capsules feature KSM-66®, the most concentrated full-spectrum ashwagandha extract available. Made exclusively from organic ashwagandha root, KSM-66 utilizes Green Chemistry processing to capture the quintessence of the herb, including both the water-soluble and fat-soluble compounds, without the use of alcohol or chemical solvents. This advanced technique yields an ultra-potent, full-spectrum extract with all the bioactive constituents found in the whole root.
Serving Information
Serving Size:

 

1 capsule
250 mg

 

per serving
60

 

servings per container
capsule

 

size:

 

1
Supplement Facts
Serving Size 1 Veggie Capsule
Amount Per Serving
% Daily Value
KSM-66® Ashwagandha Extract (made with certified organic ashwagandha) (Withania somnifera) (root)

250 mg

*
*Daily Value not established.
Advisory Information:
To ensure a healthy lifestyle, it is essential to maintain a varied and balanced diet. Food supplements should not be relied upon as a substitute for this. If you are pregnant, breastfeeding, taking any medications, or under medical supervision, it is advised to consult with a doctor or healthcare professional before using any supplements. If you experience any adverse reactions, discontinue use and seek medical advice. Please keep these products out of the reach of children and refrain from using them if the seal under the cap is broken or missing. Additionally, it is important to note that this product is intended for use by individuals who are 18 years of age or older. Warning: Please do not exceed the stated recommended daily dose.