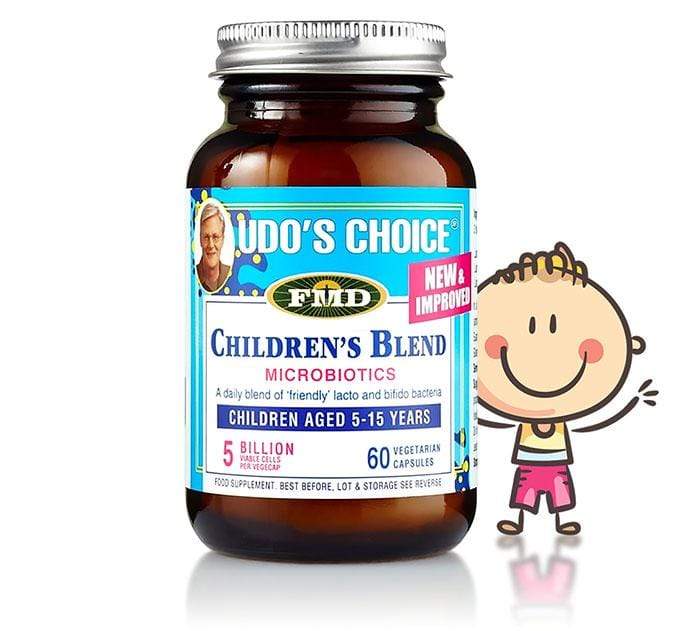 Udos Choice Childrens Blend Microbiotic - 60 Caps
€ 17.85 EUR
Regular price
€ 18.95 EUR
With 5 billion 'friendly' bacteria per daily capsule and 7 strains of lacto and bifido bacteria, Udo's Choice Children's Blend is especially useful during the school term.
Suitable from 5+ years

- 5 billion friendly bacteria per capsule
- Daily support during the school year
- Suitable for children from 5 - 15 years
Udo's Choice Children's Blend Microbiotic contains 7 child-specific bacterial strains at an appropriate strength, designed specifically for children including Lactobacillus casei, Lactobacillus rhamnosus and Bifidobacterium bifidum. Each capsule contains 5 billion 'friendly' bacteria. The capsules can be taken as they are or for those children who don't like swallowing capsules they can be popped open and the tasteless powder can be sprinkled over food. 
Udo's Choice Children's Blend Microbiotics has been trusted by Irish parents for over 20 years.
Ingredients
Lactobacillus casei (30%)
Lactobacillus rhamnosus (25%)
Lactobacillus acidophilus (20%)
Lactobacillus plantarum (10%)
Lactobacillus fermentum (5%)
Bifidobacterium bifidum (5%)
Bifidobacterium breve (5%)
In a base of Ascorbic Acid, Hypromellose, Potato Starch, Silicon Dioxide and Steric Acid.
Recommended Use:
Take 1 to 3 capsules per day.
Storage:
Udos Choice® Children's Blend must be refrigerated to ensure maximum potency & stability and may be frozen.