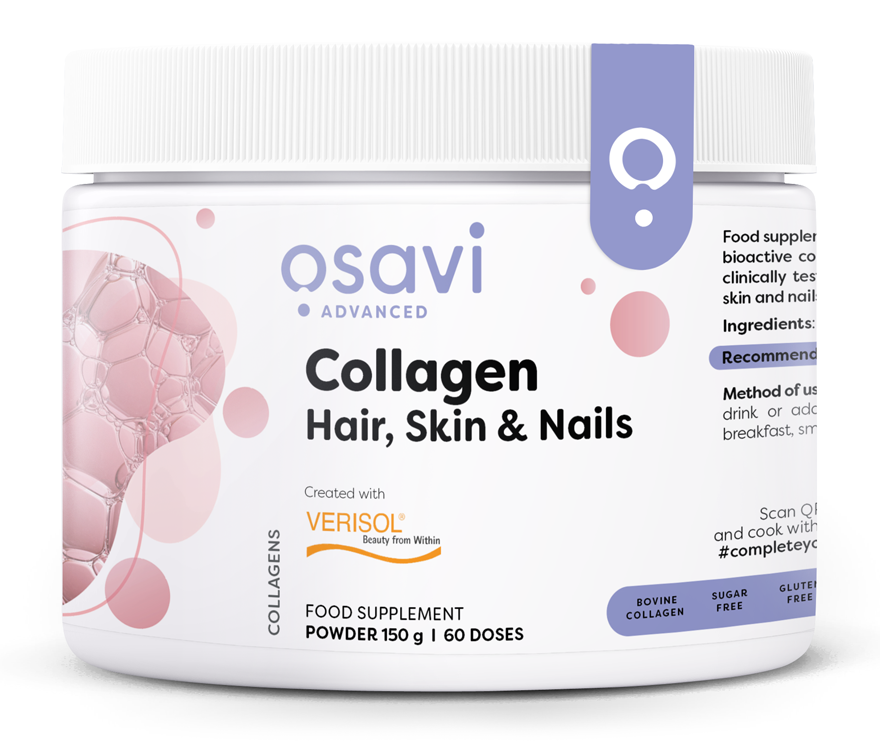 Osavi - Collagen Peptides - Hair, Skin & Nails - 150 grams
€ 25.45 EUR
Regular price
€ 28.95 EUR
Food supplement in the form of powder with VERISOL® - bioactive collagen peptides. It's soluble, odourless and tasteless, designed and clinically proven to improve hair, skin and nail appearance.
Improves hair thickness
Helps to improve skin elasticity
Reduces wrinkles
Helps to improve skin texture and decrease cellulite
Helps nails grow faster and stronger
WHY WOULD SOMEONE BENEFIT FROM COLLAGEN HAIR, SKIN & NAILS?
Contains patented and clinically tested bioactive collagen peptides 

VERISOL®.
Clean label

 - product does not contain any additives.

Measuring scoop inside.

Excellently soluble in cold and warm drinks.

 

Unflavoured.

Excellent for drinks, smoothies or meals.
Collagen Hair, Skin and Nails is the best collagen for people who would like to improve joint pain, reduce wrinkles, promote muscle growth and aid weight regulation. Collagen is often called the protein of youth, because it is the most abundant protein. It's the main component of connective tissues that make up several body parts, including tendons, ligaments, skin, and muscles. Unfortunately, as you age, your existing collagen breaks down, and it gets harder for your body to produce more. When your collagen levels drop you may have symptoms such as muscle weakness, joint pain or stiff tendons or ligaments, or reduced elasticity in your skin.
How much collagen you have depends on certain factors - both environmental (e.g. UV radiation) and endogenous (e.g. hormonal balance or diet). To prevent its decline, it is worth supporting your body from the inside to maintain collagen at a good level, which will result in many benefits including keeping your skin strong, elastic and youthful looking. Firstly, add collagen products into your everyday meals, as a second choice, take collagen supplements.
Collagen Hair, Skin and Nails from Osavi contains patented and clinically tested bioactive VERISOL® collagen peptides, which support the skin metabolism, faster nail growth and better condition of the hair. Clinical studies have confirmed that supplementation with bioactive collagen peptides contributes to increasing skin elasticity, reducing the amount of wrinkles, increasing skin hydration, as well as preventing cellulite, which results in beautiful firm skin, regardless of age. It improves hair, making it stronger and more resistant to breaking. Collagen helps nails grow faster, stronger and reduces their brittleness [1,2,3].
Collagen Hair, Skin and Nails powder is ideal for those who don't want to take the tablet form. Thanks to the neutral taste and smell, it's a perfect addition to smoothies, salads and desserts. It is also ideal to drink as it dissolves easily in both hot and cold drinks. It does not contain any additives, as the only ingredient is bovine collagen.
RECOMMENDED DAILY DOSE
1 and ½ scoop (2,5 g) daily
METHOD OF USE 
Dissolve 1 and ½ scoop of powder in 200 ml of water, drink or add directly to food. We suggest to take product in the morning.
INGREDIENTS
Bovine collagen peptides
Advisory Information:
To ensure a healthy lifestyle, it is essential to maintain a varied and balanced diet. Food supplements should not be relied upon as a substitute for this. If you are pregnant, breastfeeding, taking any medications, or under medical supervision, it is advised to consult with a doctor or healthcare professional before using any supplements. If you experience any adverse reactions, discontinue use and seek medical advice. Please keep these products out of the reach of children and refrain from using them if the seal under the cap is broken or missing. Additionally, it is important to note that this product is intended for use by individuals who are 18 years of age or older. Warning: Please do not exceed the stated recommended daily dose.