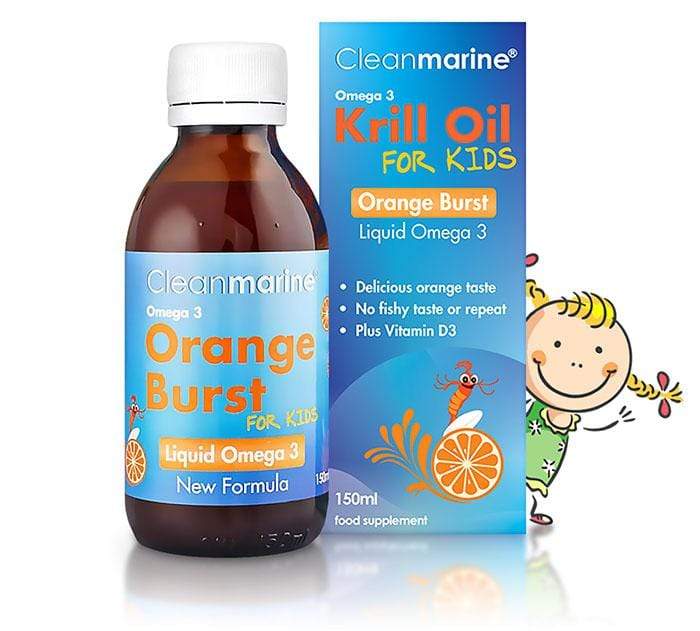 Cleanmarine Orange Burst For Kids - Pure Omega 3- 150ml
€ 13.95 EUR
Regular price
€ 14.95 EUR
A delicious Valencia orange flavoured Omega 3 liquid. Taste approved by kids! Orange Burst is ideal for those who have trouble swallowing capsules.
Each 5ml serving contains 100% RDI of Vitamin D3 to help build strong bones.

- Omega 3 For Kids
- Delicious orange flavoured liquid
- Ideal for kids who have trouble swallowing capsules
- No artificial colours, flavours or preservatives
Childhood is fast and action packed. There's all that phenomenal growth, and so much to do and learn – walking, climbing, fine motor skills, speech, exercising the imagination - and that's before academia even kicks in. Yet every one of these vital skills relies on messages from a healthy, growing brain. The grey stuff really matters.
Almost two thirds of the brain is made up of fats. To function well, we need lots of 'good' fats, such as omega 3. This is particularly true for the brains and nervous systems of young children which are still developing. We can only get these essential fatty acids from an outside source such as food. Of course, our little works-in-progress are notoriously picky eaters, so that's where supplementation comes in. Fish oil used to be the standard when it came to omega acids, but there's a new source in town, and that's Omega-3 with Phospholipids. The body absorbs more omega acids from Omega-3 with Phospholipids – and absorbs them faster too. 
Cleanmarine Orange Burst is a delicious Orange flavoured Omega-3 with Phospholipids liquid with added sunshine vitamin D.
Phospholipids have been shown to be highly effective even when taken at lower levels compared to fish oils. And best of all because it is quickly and easily absorbed your kids will avoid the unpleasant fishy after-taste or reflux common with fish oils.
Cleanmarine Orange Burst also contains 100% recommended daily allowance of the vitamin D3 which supports healthy bones. So your kids can get on with all the fun stuff of childhood while feeling great.
Recommended use:
Children 3+ years: 5ml or 1 dropper daily
Children 10+ years: 10ml or 2 droppers daily
Do not exceed recommended daily intake. 
Did you know Cleanmarine Orange Burst is:
- An Irish Brand, based in Wicklow
- Contains no artificial colours
- Gluten free
- Not tested on animals
- MSC Certified for sustainability
- Halal Certified by Department of Halal Certification Europe 

EPA and DHA contribute to the normal function of the heart, brain and vision. Vitamin D contributes to the normal function of the immune system and to the maintenance of normal bones and muscle function.
Caution: Contains crustacean. Consult a health practitioner prior to use if you are pregnant or breastfeeding.