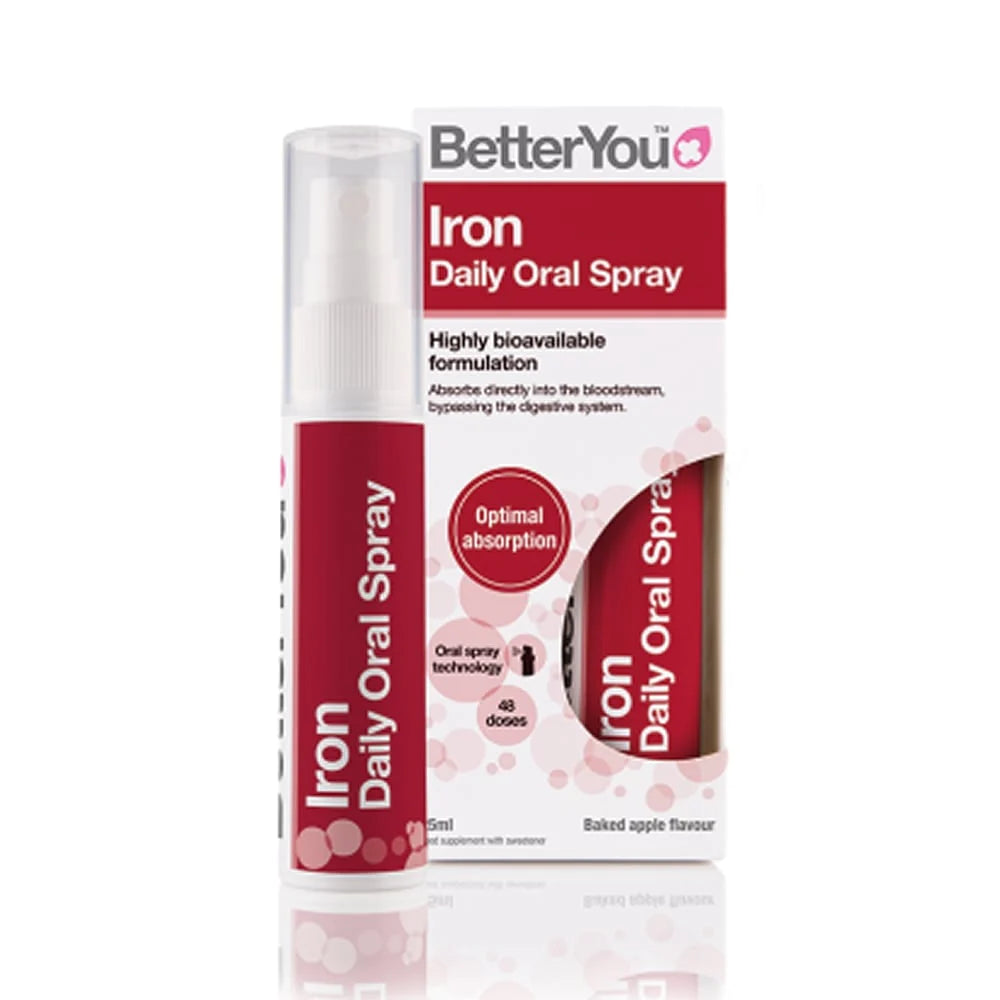 BetterYou - Iron Daily Oral Spray - 25ml - 48 doses.
BetterYou Iron Oral Spray offers a pioneering solution to the digestive discomfort experienced from ingested iron supplements.
4 sprays deliver 5mg of highly bioavailable iron
Formulated to be gentle on the digestive system
Helps reduce tiredness and fatigue
Supports immune health and normal cognitive function
48 daily doses
Natural baked apple flavour
Certified vegan and palm oil derivative free
Sustainable packaging made from Ocean Waste Plastic
Details
Delivering 5mg of iron per 4 sprays, the Iron Oral Spray is specially formulated to deliver this vital nutrient directly into the mouth. The tiny droplets absorb quickly, providing fast nutrient uptake.
Traditional routes of iron supplementation including tablets, capsules and liquids are notoriously known to cause digestive discomfort as iron is an irritant to the digestive tract.
As a result, there can be several negative side effects on the body when supplementing in this way including constipation, sickness, stomach pains, bloating and heart burn.
Importance of Iron
Iron contributes to the normal function of the immune system, supports normal cognitive function and helps with the reduction of tiredness and fatigue.
Who needs it
Everyone needs iron to be healthy, but there are groups of people that are especially susceptible to iron deficiency sub-optimal iron levels.
These include those with malabsorption issues, pregnant women, women who have heavy periods, athletes and people following vegetarian or vegan diets
Specifications
| Product size: | 25ml / 192 sprays |
| --- | --- |
| Flavour: | Natural baked apple |
| Usage length: | 48-day supply |
| Strength per single spray: | 1.25mg |
| Active ingredient: | Ferric Sodium EDTA / Ferric Ammonium Citrate |
| Absorption tested by: | Cardiff University |
How to use
Initial use: press the pump 3 times to get the liquid flowing.
Shake well before every use. Carefully spray into your mouth, ideally onto the inside of your cheek, and hold for a few seconds.
Replace the cap after use.
Dosage
4 spray contains 5mg of iron.
Use 4 sprays daily (or as directed by your healthcare practitioner).
Does not need to be taken with food or water, can be taken at any time of the day and combined with our other oral sprays.
Suitable for
Adults
Children aged 3 years and above*
Use during pregnancy and breastfeeding
Vegetarians
Vegans
People following a gluten free diet
*Halve dosage for children under 12 years of age as their additional daily supplementation need is lower than that of an adult.
No contraindications with prescribed medications.
Not suitable for
Children aged 2 years and below
Haemochromatosis sufferers
Ingredients
Water, sucrose, Sodium Ferric EDTA, ferric ammonium citrate, preservative: potassium sorbate, natural baked apple flavour, sweetener: stevia.
Free froms
Gluten Free
No artificial colours
No artificial flavours
No additives
No fillers
No GMO
No Alcohol
Eco-friendly packaging
The carton is made of material from well-managed, FSC®-certified forests and other controlled sources.
The bottle is made from 70% Ocean Waste Plastic and 30% Post-Consumer Recycled plastic (PCR).