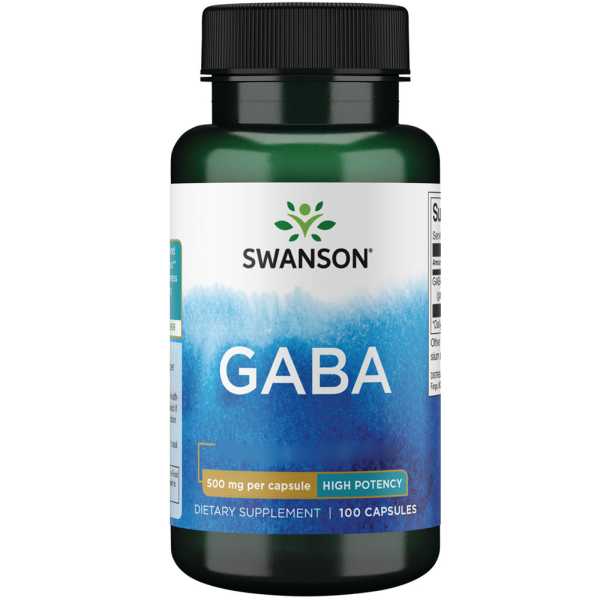 Swanson GABA High Strength 500mg - 100 Caps
Product Description
May ease nervous tension and the negative effects of stress
Promotes a feeling of calmness and relaxation and supports restful, restorative sleep
High potency formula
Stressed out by the pressures of a fast-paced lifestyle? Reach for the calming nutrition of Swanson GABA. A compound manufactured in the brain from glucose and the amino acid glutamine, GABA (gamma-amino butyric acid) supports the central nervous system's reaction to stressful situations. Each single-capsule serving delivers 500 mg GABA to promote feelings of calm and relaxation.
Serving Information
Serving Size:

 

1 capsule
500 mg

 

per serving
100

 

servings per container
capsule

 

size:

 o
Supplement Facts
Serving Size 1 Capsule
Amount Per Serving
% Daily Value
GABA (gamma-aminobutyric acid)

500 mg

*
*Daily Value not established.
Other ingredients: Gelatin, magnesium stearate.
Advisory Information:
To ensure a healthy lifestyle, it is essential to maintain a varied and balanced diet. Food supplements should not be relied upon as a substitute for this. If you are pregnant, breastfeeding, taking any medications, or under medical supervision, it is advised to consult with a doctor or healthcare professional before using any supplements. If you experience any adverse reactions, discontinue use and seek medical advice. Please keep these products out of the reach of children and refrain from using them if the seal under the cap is broken or missing. Additionally, it is important to note that this product is intended for use by individuals who are 18 years of age or older. Warning: Please do not exceed the stated recommended daily dose.