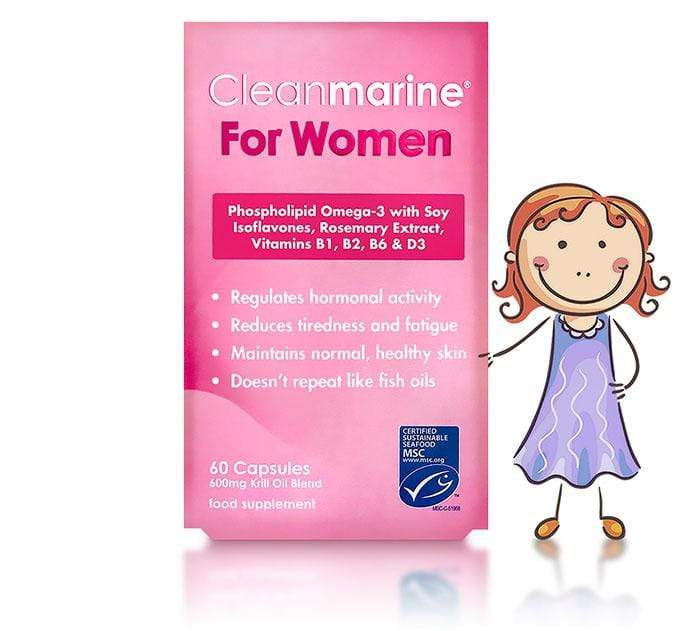 Cleanmarine For Women Omega-3 600mg - 60 Caps
€ 21.75 EUR
Regular price
€ 28.00 EUR
Cleanmarine For Women is a unique all-in-one Omega 3, Phytonutrient and Vitamin blend designed specifically to offer nutritional support to women from 15 - 40 years. 
Each Cleanmarine For Women capsule is packed with Omega-3 with Phospholipids, Vitamins B1, B2, B6 and D3, as well as Rosemary Extract and Soy Isoflavones. With Vitamin B6 helping to regulate hormonal activity, supporting energy production and reducing tiredness and fatigue and Vitamin B2 to help maintain normal skin. This synergistic formula is ideal for women who want to feel and look good every day.
Did you know that 98% of our customers would recommend Cleanmarine For Women to a friend?
- Ideal for women 15-40 years
- Irish Brand, based in Wicklow
- Tested Sports Safe
Cleanmarine For Women is a unique all-in-one Omega 3, Phytonutrient and Vitamin blend (with no fishy repeat) designed specifically for women 15-40 years to give nutritional support especially around the time of your period. So you feel and look your best all month long.
Omega 3, Rosemary Oil and Soy Isoflavones are included in Cleanmarine For Women along with a range of vitamins to provide extra nutritional support for menstruating women. This synergistic formula importantly contains vitamin B6 which contributes to the regulation of hormonal activity while it also contributes to normal psychological function.
We all now lead such busy lives and can benefit from a natural helping hand when it comes to energy levels. Conveniently Cleanmarine For Women contains vitamin B1, B2 and B6 which work to support normal energy yielding metabolism while vitamin B2 and B6 contribute to reducing tiredness and fatigue.
Good health shows, and nowhere more obvious than our skin. Who doesn't want skin that glows? Vitamin B2 works to maintain normal skin while sunshine vitamin D3 contributes to the maintenance of normal bones, teeth and normal muscle function.
Did you know Cleanmarine For Women is Tested Sports Safe? Every batch of Cleanmarine For Women is independently tested to WADA standards, reassuring to know for elite and aspiring athletes.