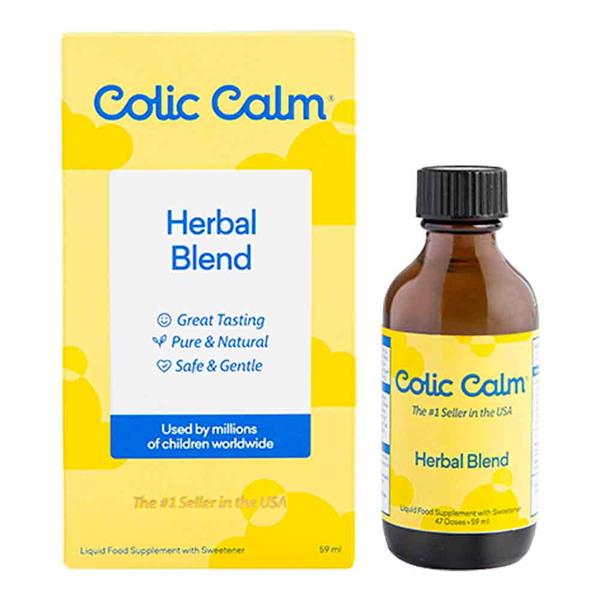 Colic Calm for Baby's Digestive Pains - 59ml
€ 16.25 EUR
Regular price
€ 17.95 EUR
Colic Calm Herbal Blend is used to treat your baby's digestive pains. This is ideal to use if your baby is suffering from colic, reflux or gas. The Herbal Blend helps adjust your baby's digestive system to new foods while also relieving any stomach pain. 
All-natural Gripe Water remedy

Wheat, Gluten, Dairy and soy-free
Suitable for vegetarians and vegans.
The #1 selling gripe water for infant gas & colic.
Fast acting relief that works in minutes
Pediatrician recommended
Safe and gentle
Great tasting
Made with natural active ingredients
How to Use?
Shake bottle well before each use
Fill provided measured oral dispenser up to required dose level and dispense slowly into the mouth between cheek and gums.
For Oral use only.
Clean oral dispenser and let air-dry after each use.
Close cap tightly after each use.
Babies weighing under 20lbs (9kg): 1/4 teaspoon (1.25ml)
Babies weighing over 20lbs (9kg): 1/2 teaspoon (2.5ml)
Each dose may be repeated once every 30 minutes for up to 3 doses, or as directed by a  doctor/pharmacist.
Do not exceed 4 doses per day.
What age can my baby start to take Colic Calm?
Colic, gas and reflux usually become evident in babies from as early as two weeks of age. Most parents of two-week-olds have found it best to start with just a few drops, gradually adding more if needed (not to exceed the recommended dose). For such young babies, a few drops is all that is usually needed to provide relief within minute.
How to store Colic Calm?
This product should be stored at room temperature, out of direct sunlight. Because there is no need for refrigeration, the Colic Calm formula is ideal for travelling away from home. It is guaranteed effective up to 8 weeks from the time bottle is opened.
Active Ingredients: Activated Charcoal, Cape Aloe Fluid Extract, Caraway Fluid Extract, Chamomile Fluid Extract, Fennel Fluid Extract, Blackthorn Bud Fluid Extract, Ginger Fluid Extract, lemon Balm Fluid Extract, Peppermint Fluid Extract.
Inactive Ingredients: Purified Water, Sweetener: Xylitol, Glycerin, Citric Acid, Benzoic Acid, Sorbic Acid, Potassium Citrate
Precautions
Keep this and all supplements out of the reach of children. Do not exceed recommended dosage. Do not use if the safety seal is broken or missing. Consult your health care provider before giving this or any similar product to an infant. If symptoms show no sign of improvement, consult your baby's pediatrician.